Advanced pre+probiotic tablets (30 days)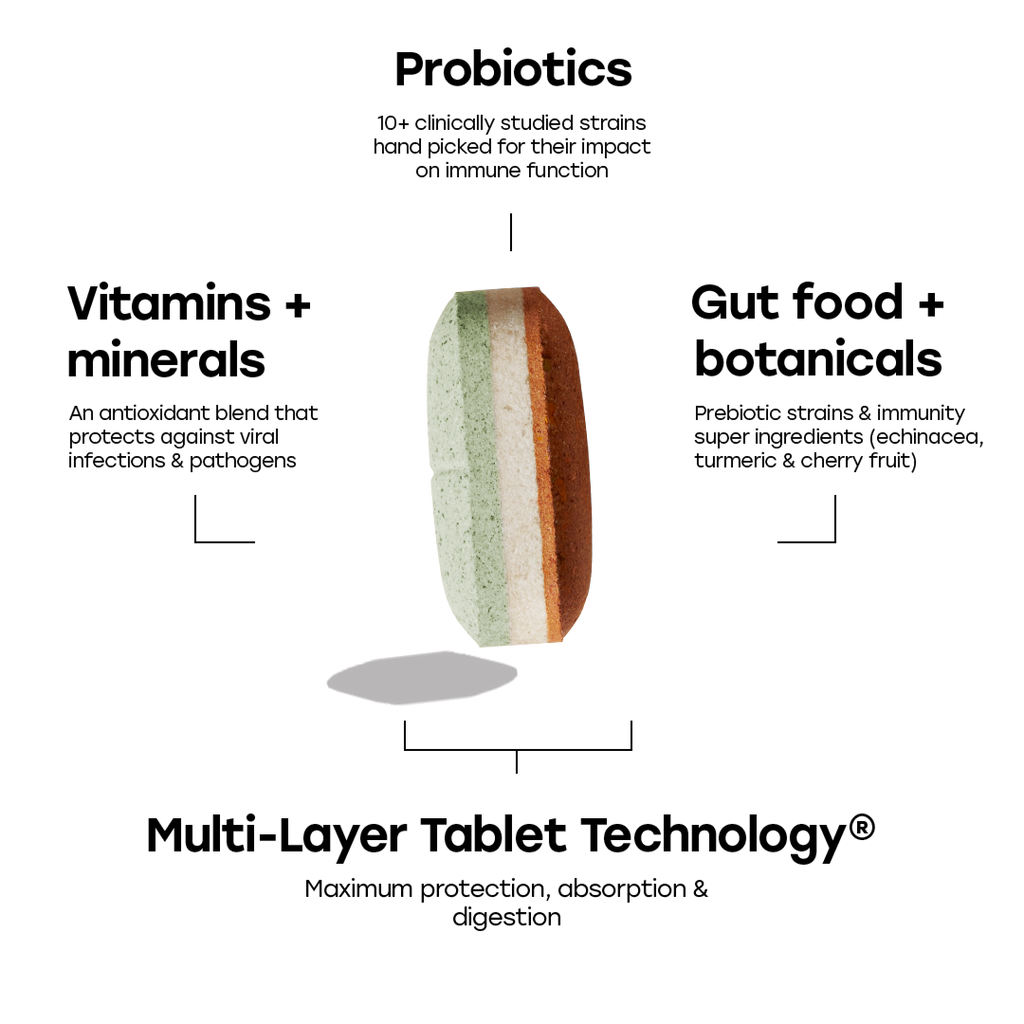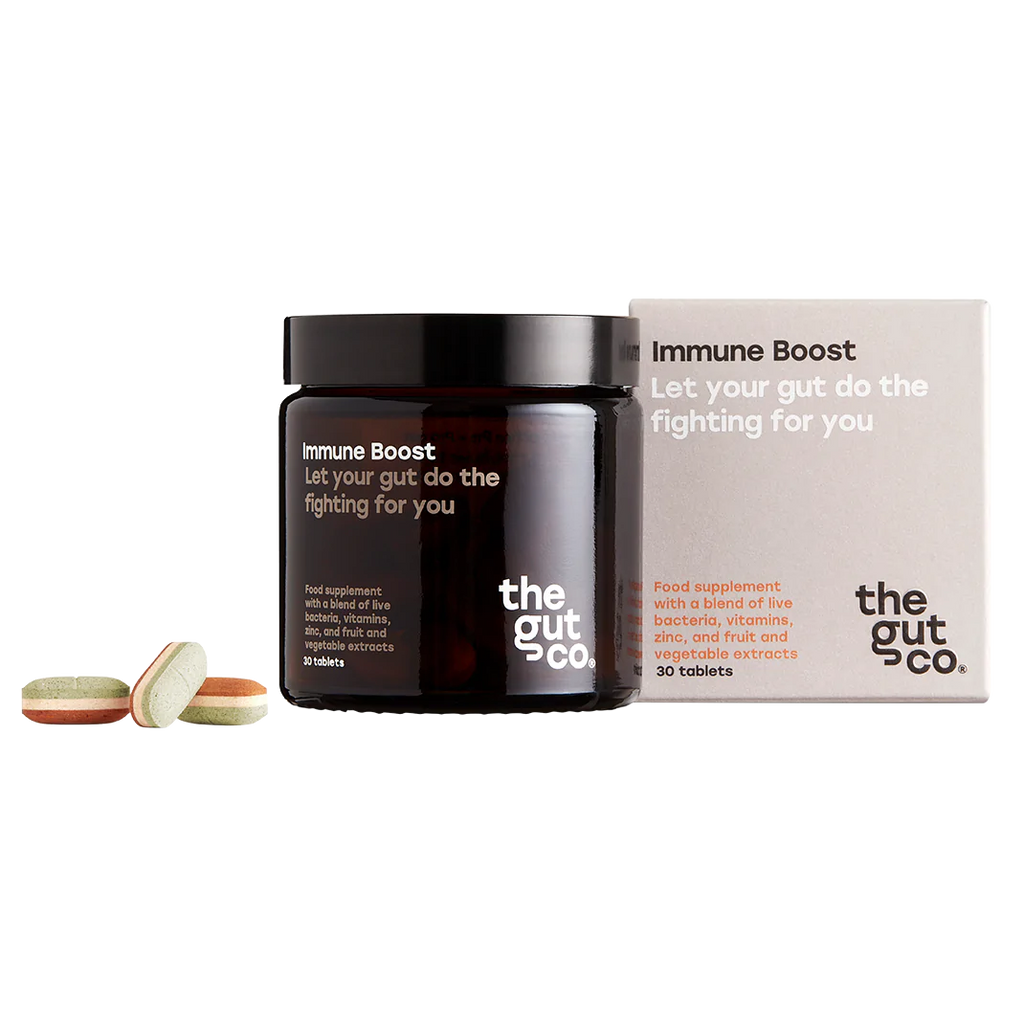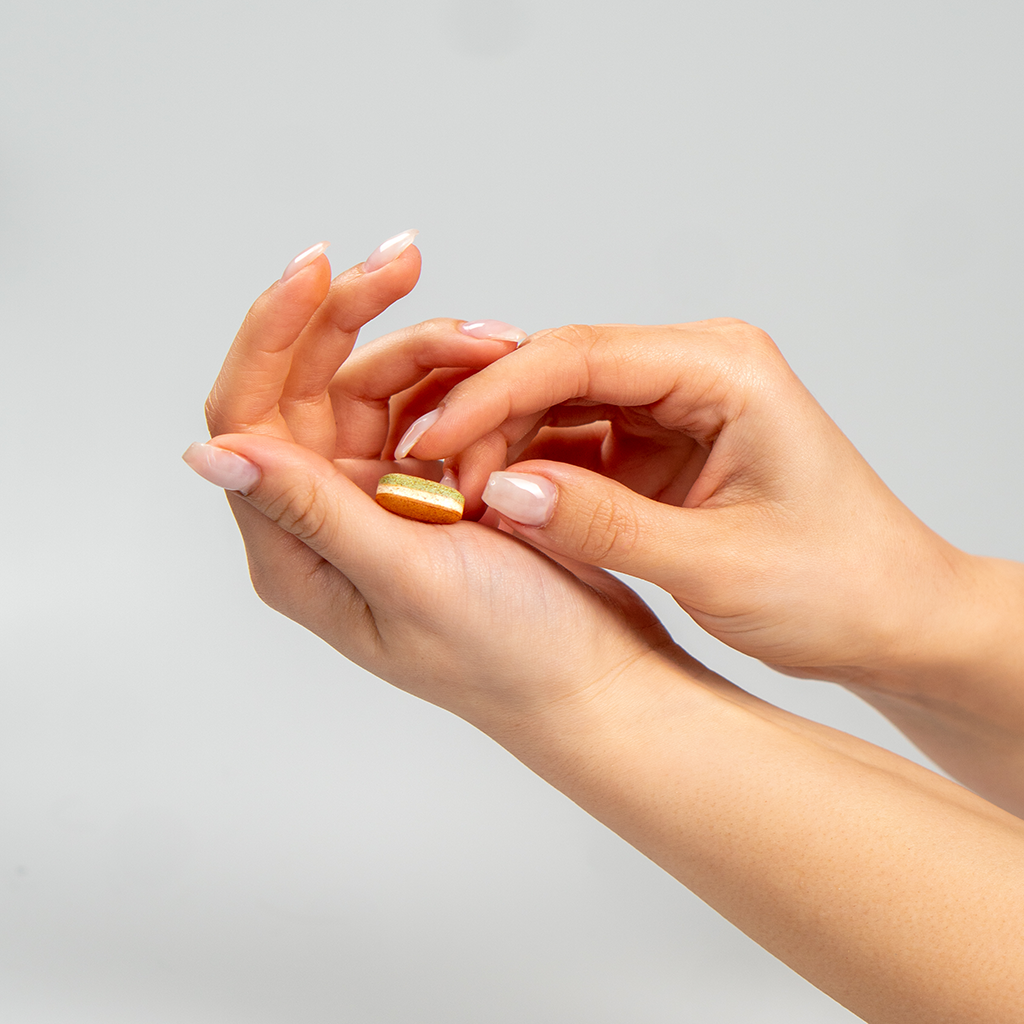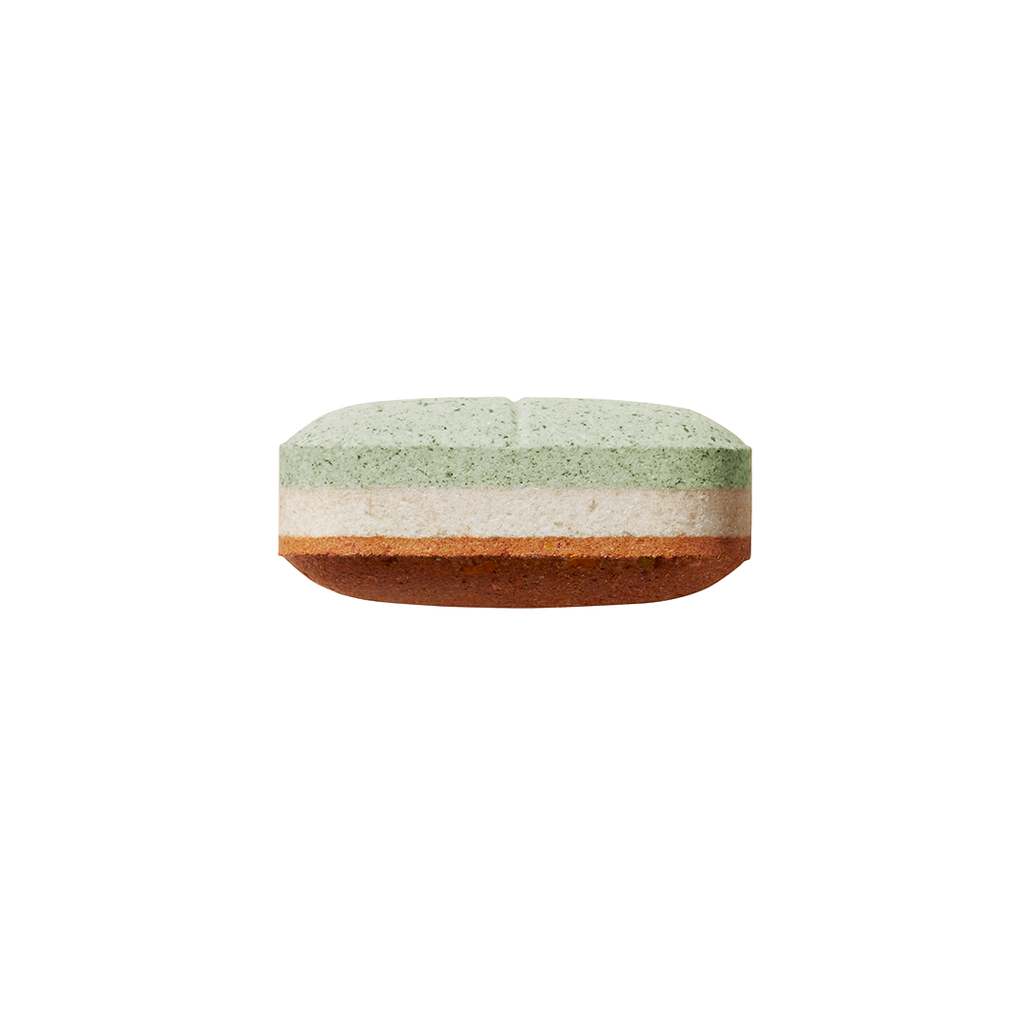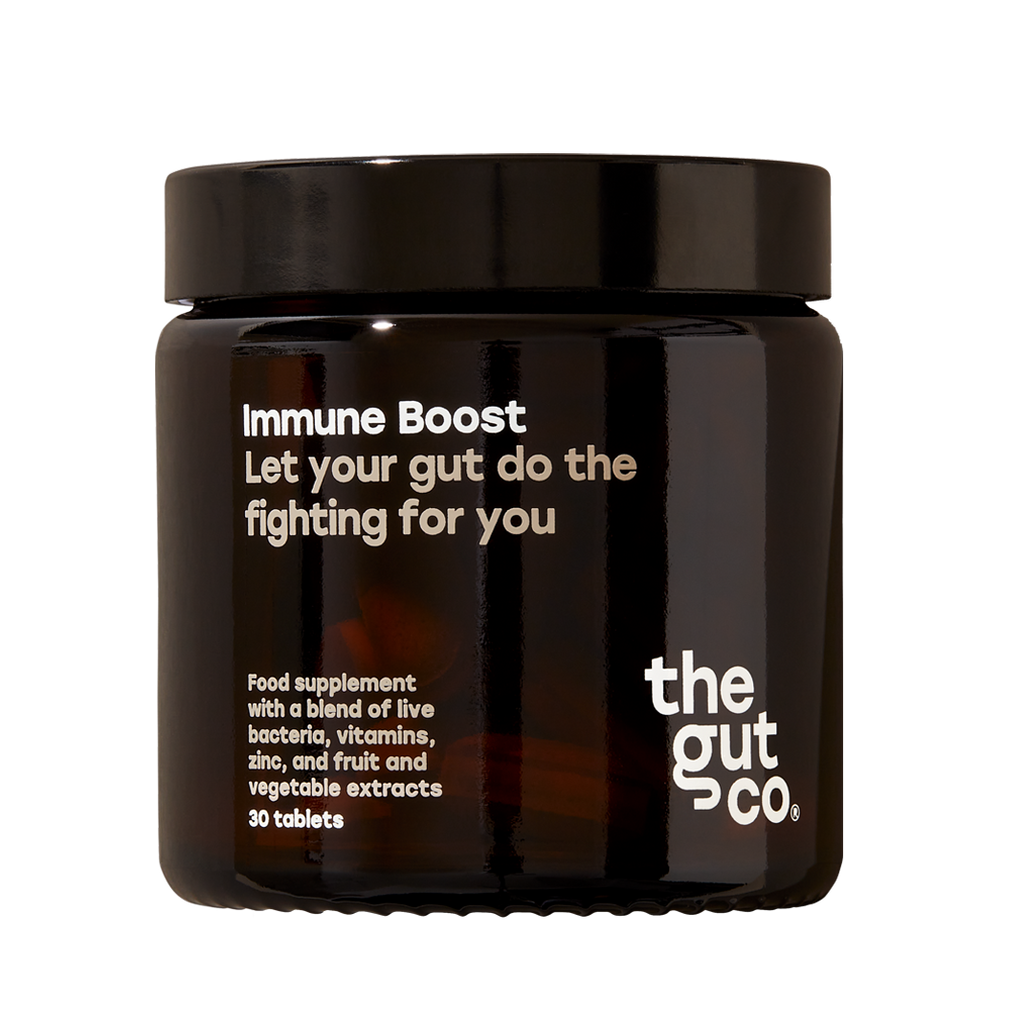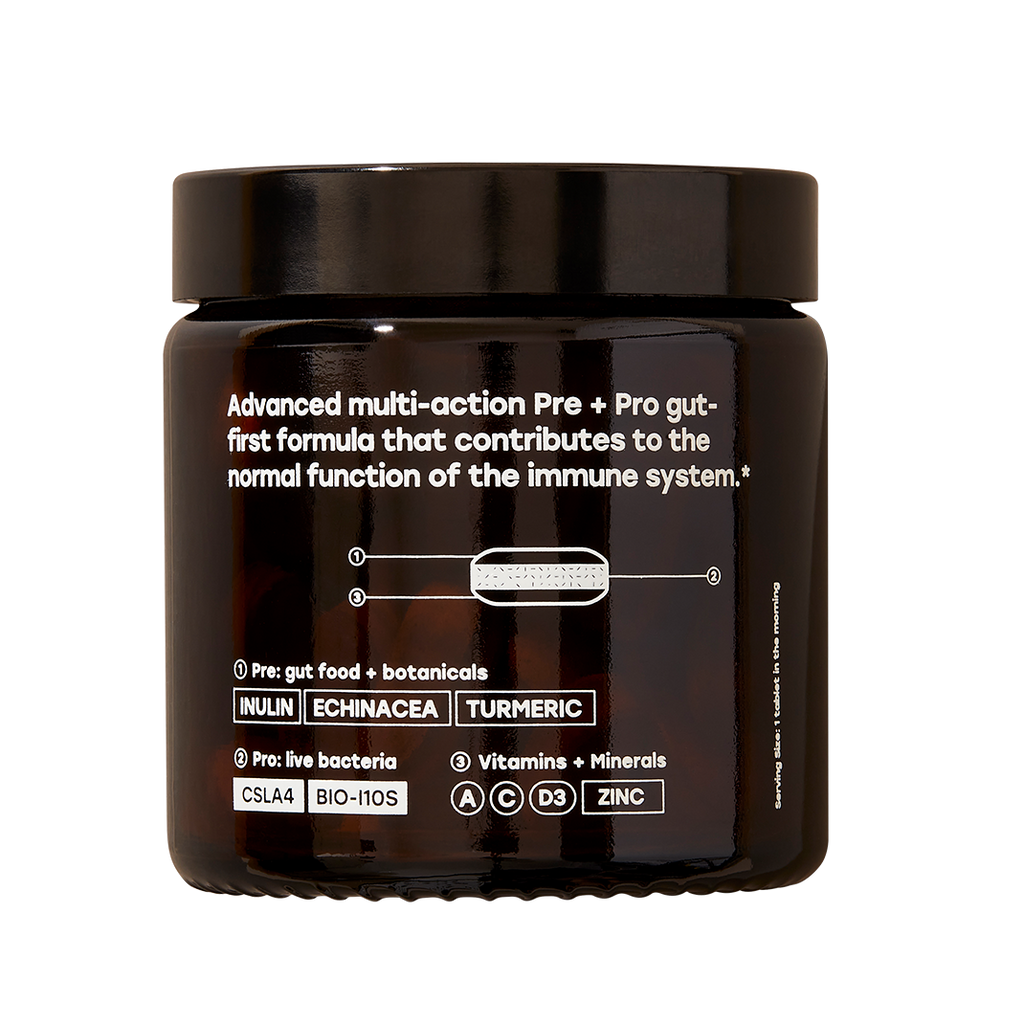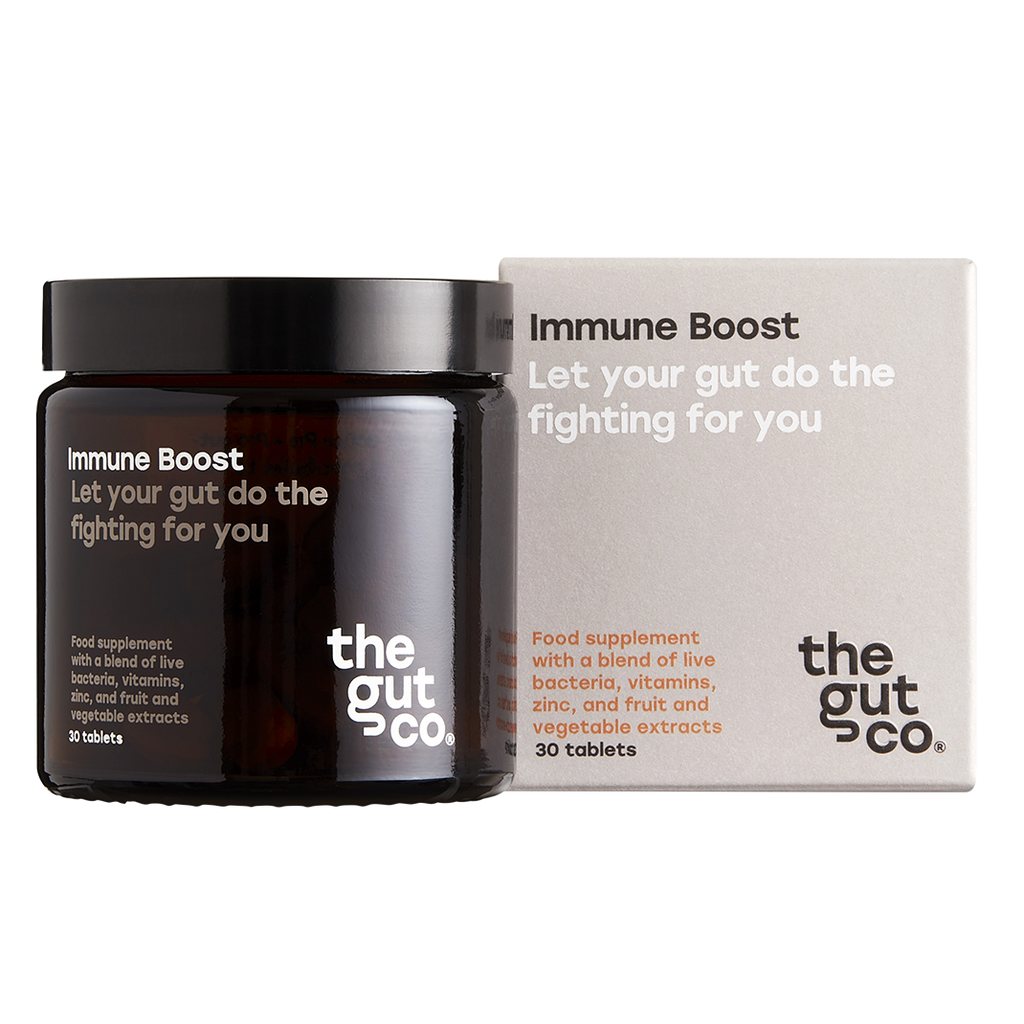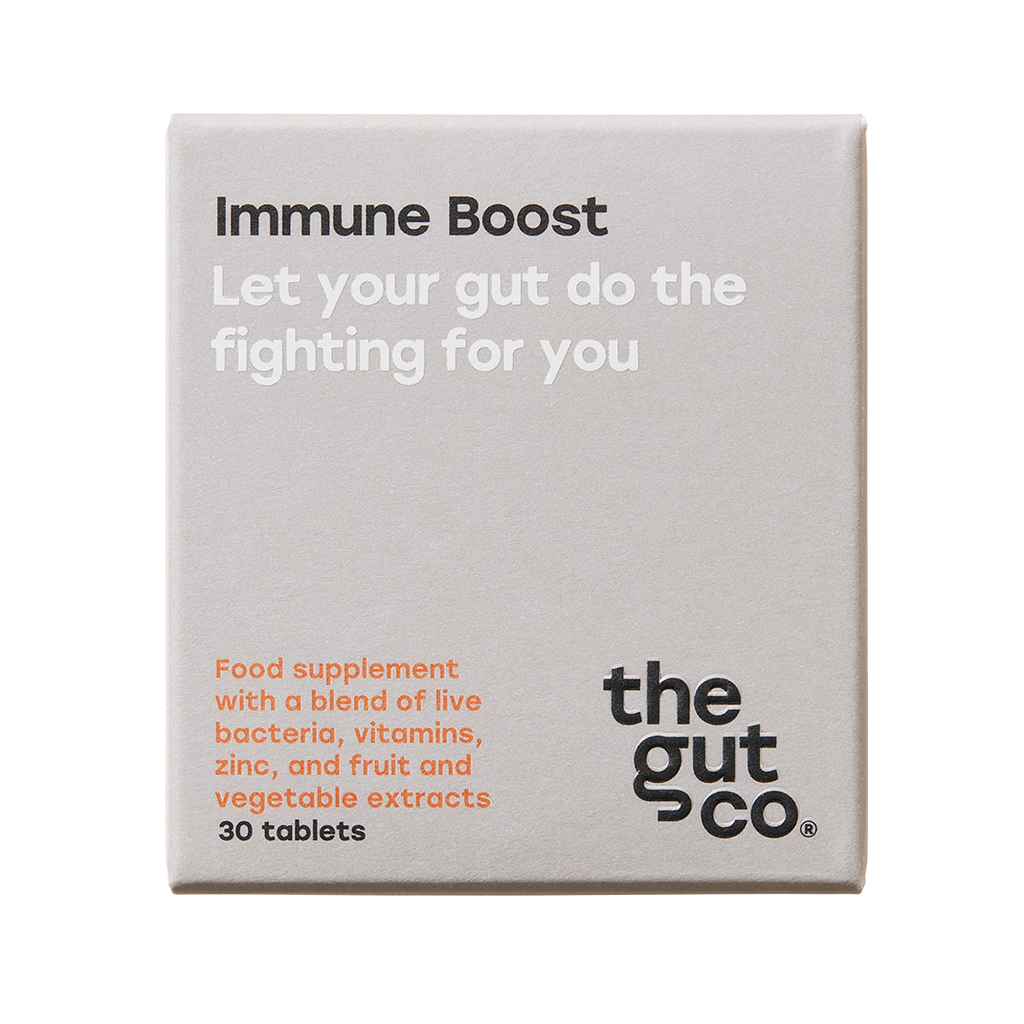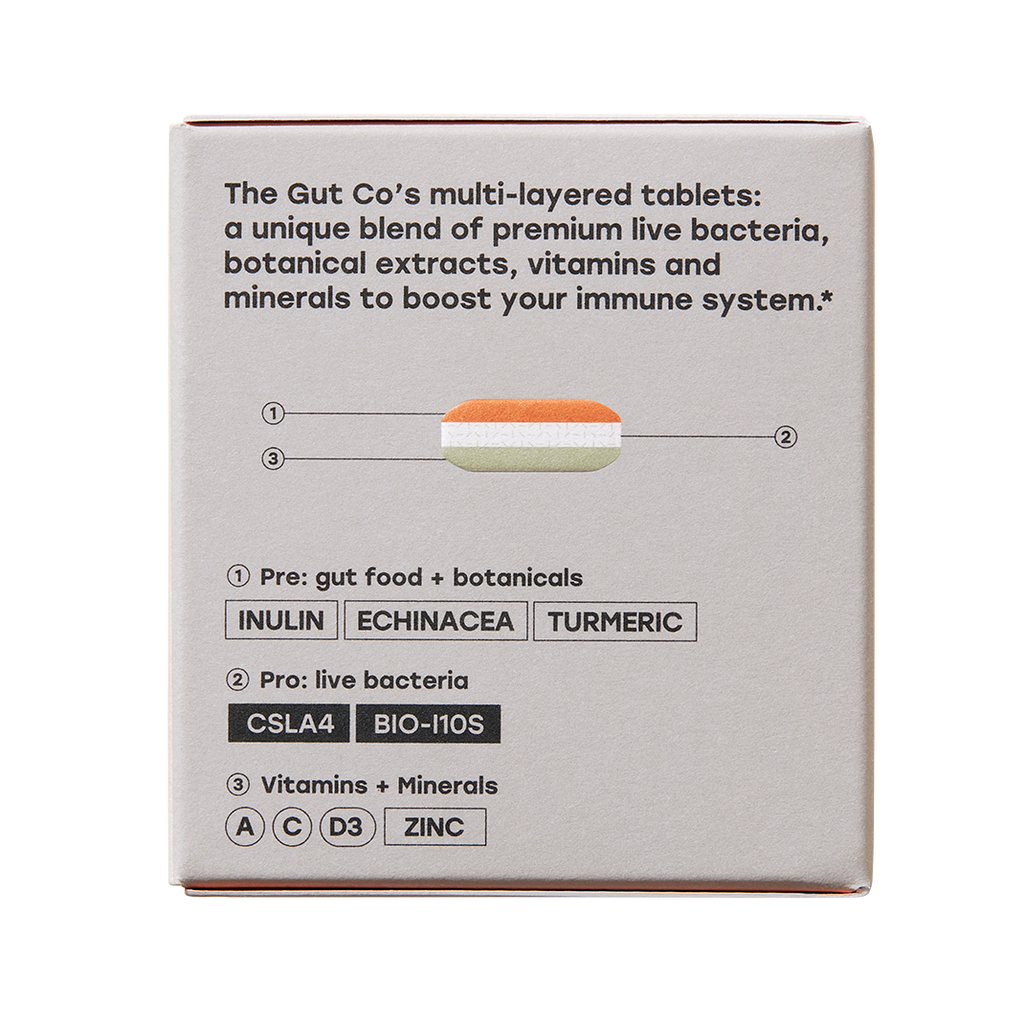 Feel better in 30 days or your money back!
Did you know 70%  of the immune system is modulated through the gut? Boost your natural defences with 1 daily tablet that fights at ground zero for immune health. Each natural, sustainable tablet contains powerful, proven immune-boosting vitamins, minerals, botanicals & prebiotics AND 8.5 billion+ (8.5 x 109 CFU) of the exact premium probiotics proven to most effectively support immunity through the mucosal lining of the gut - in exactly their most effective dosages. Plus our unique Multi-Layered Tablet Technology® ensures each ingredient is fully protected until your gut is ready to digest it, for superior absorption vs. capsules.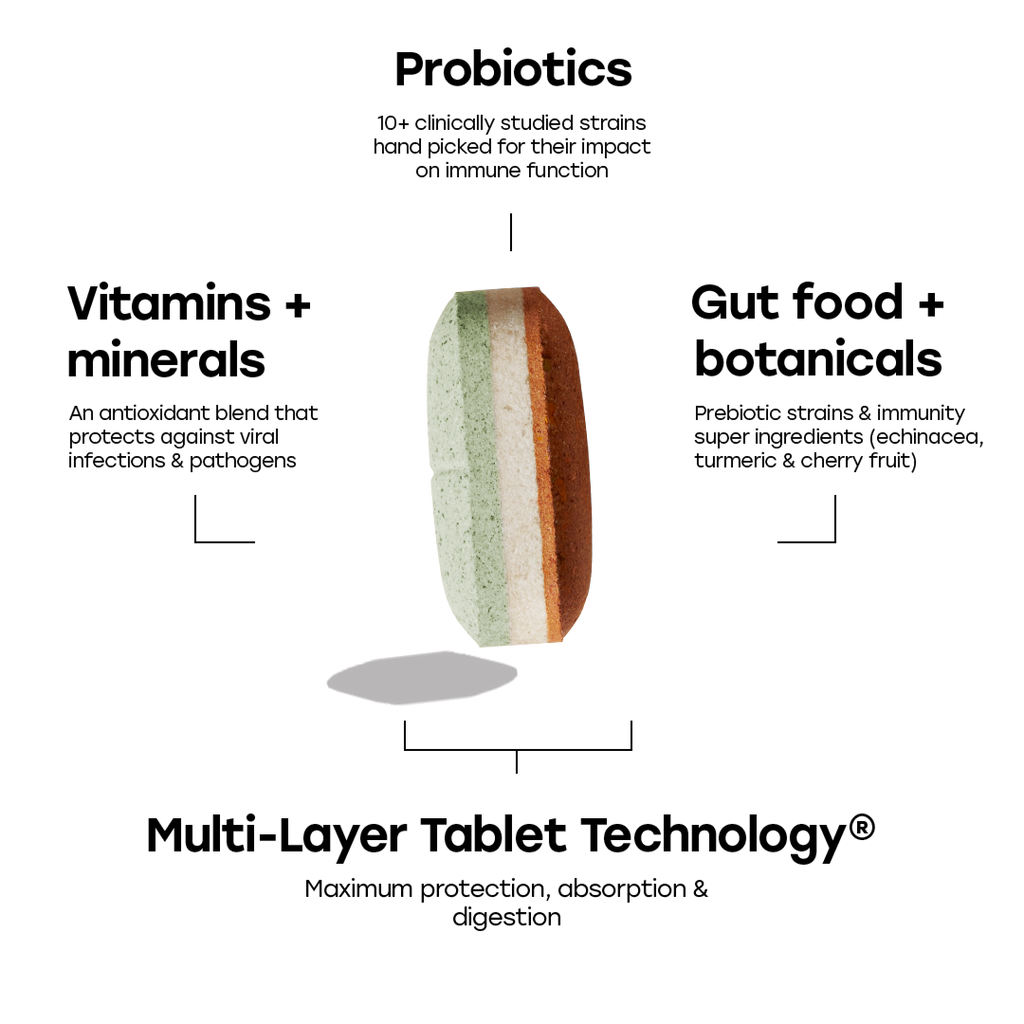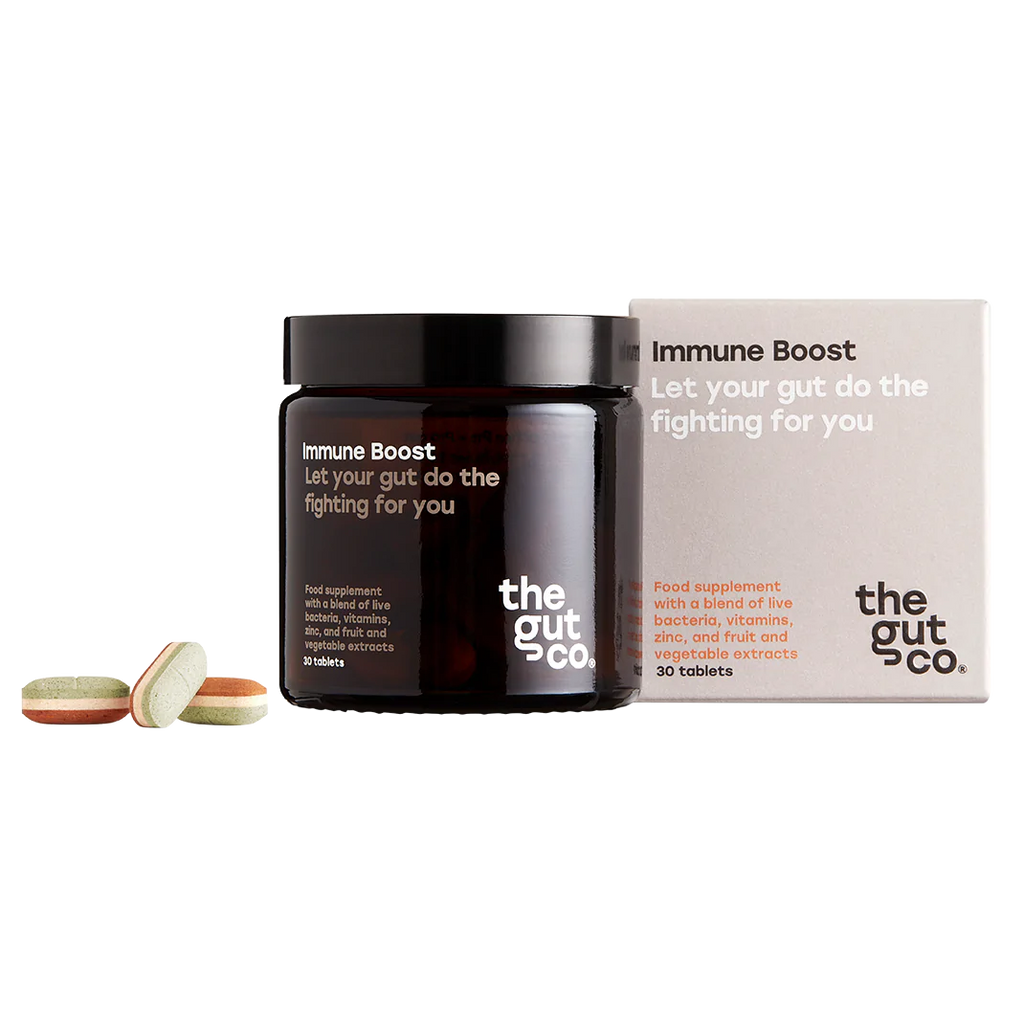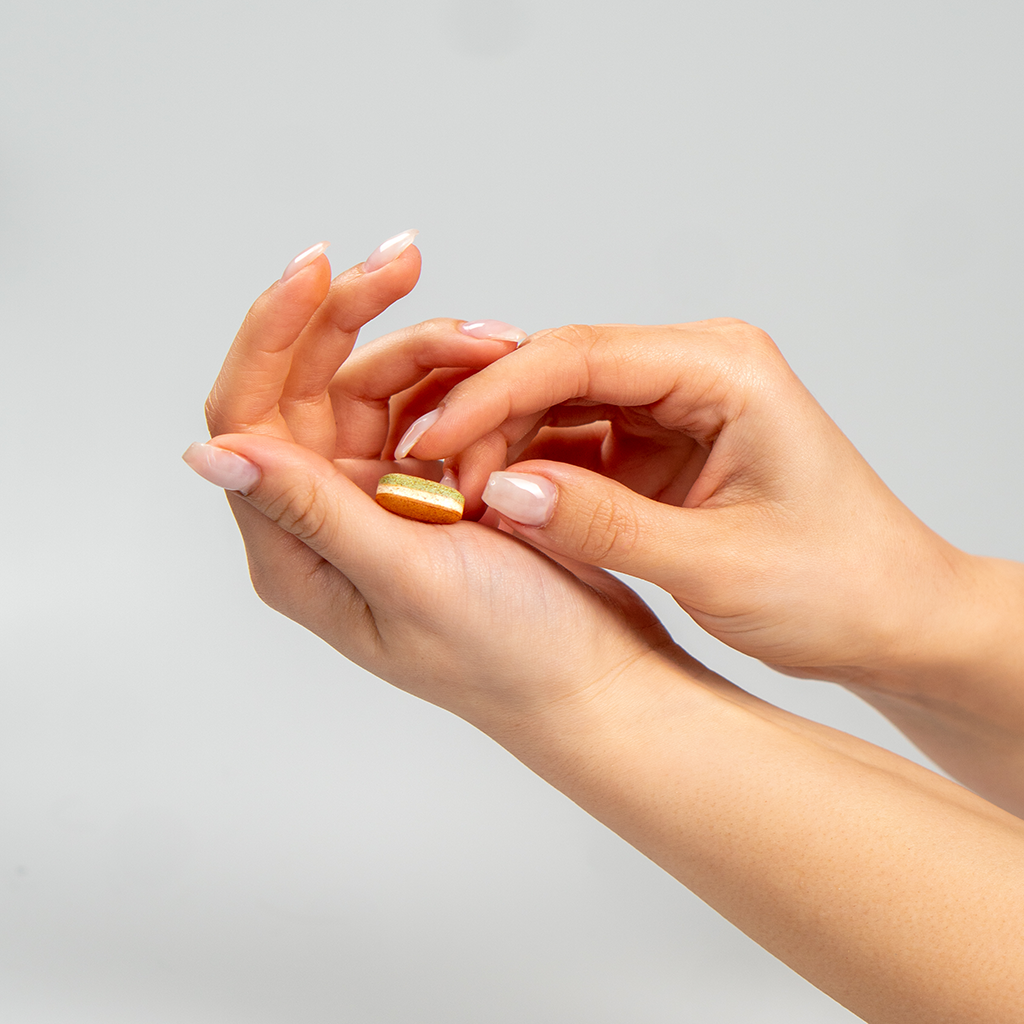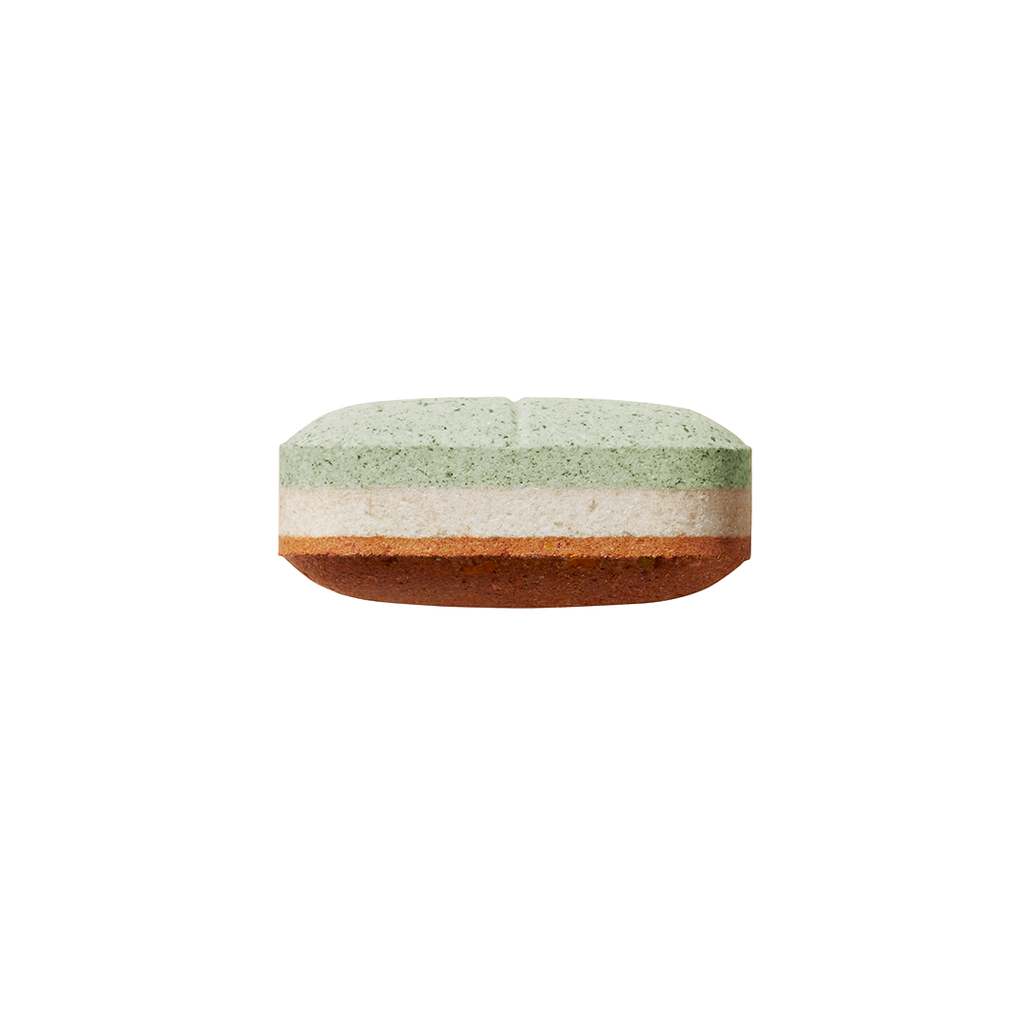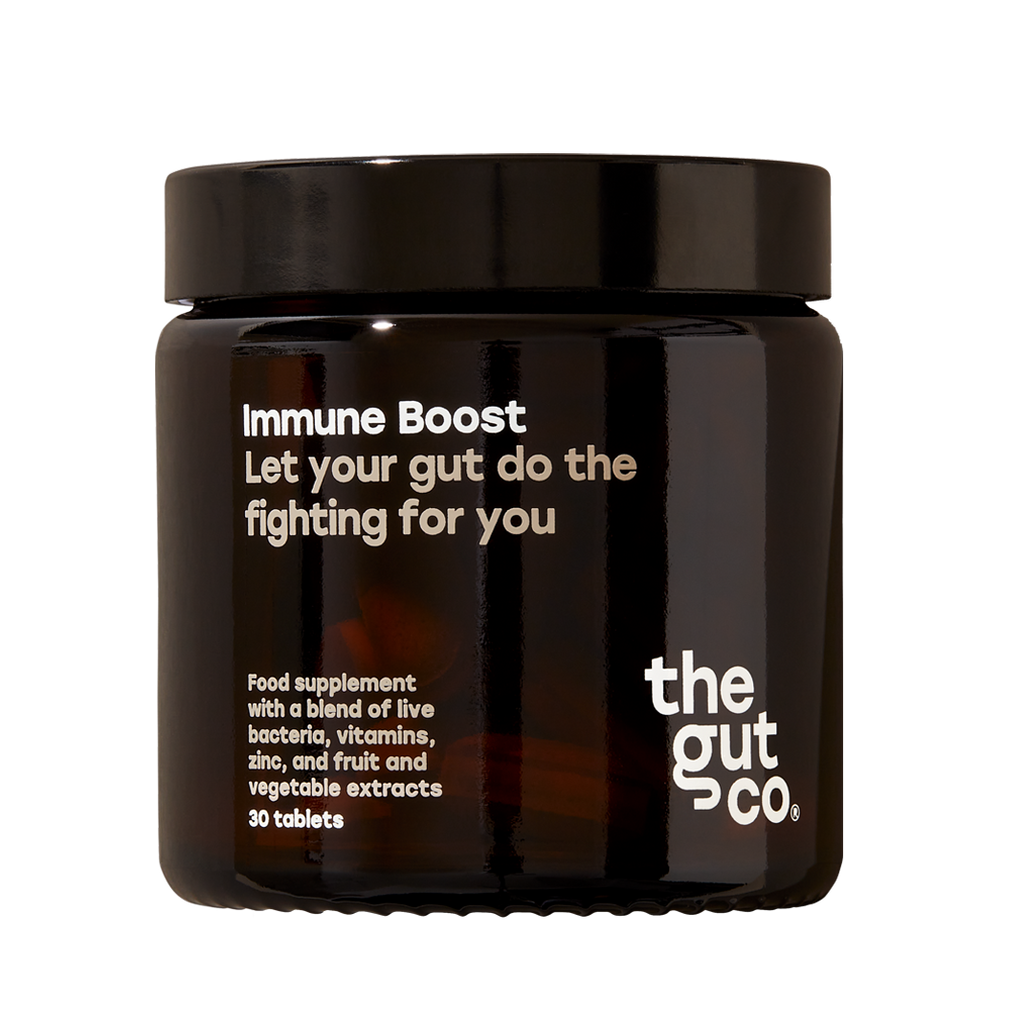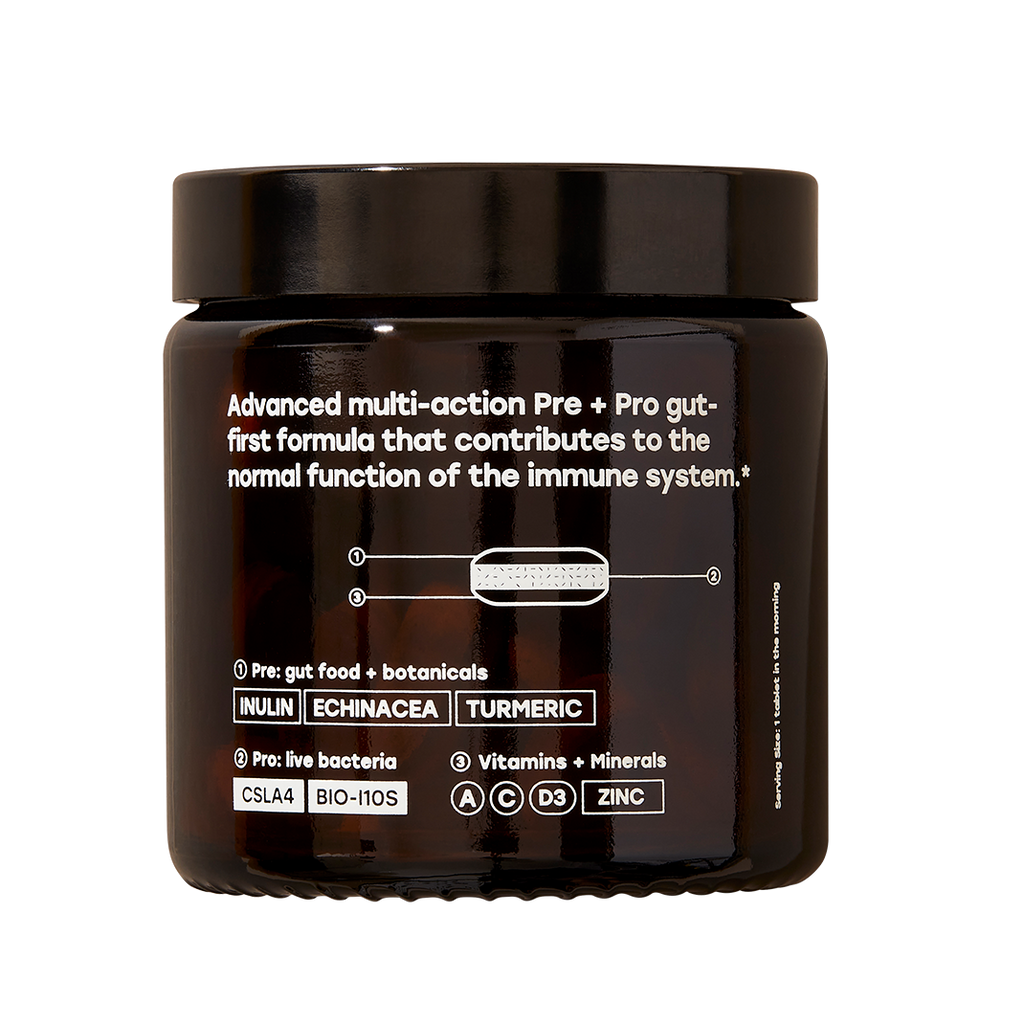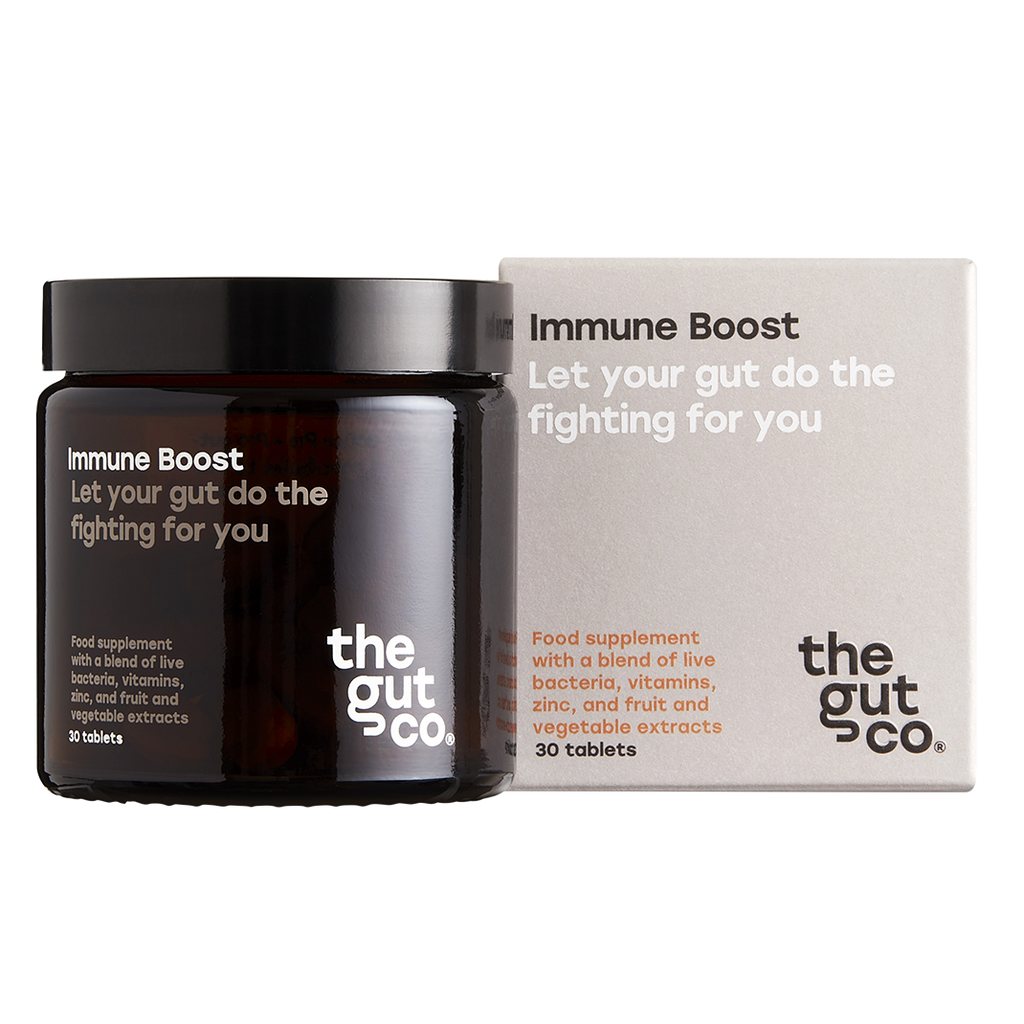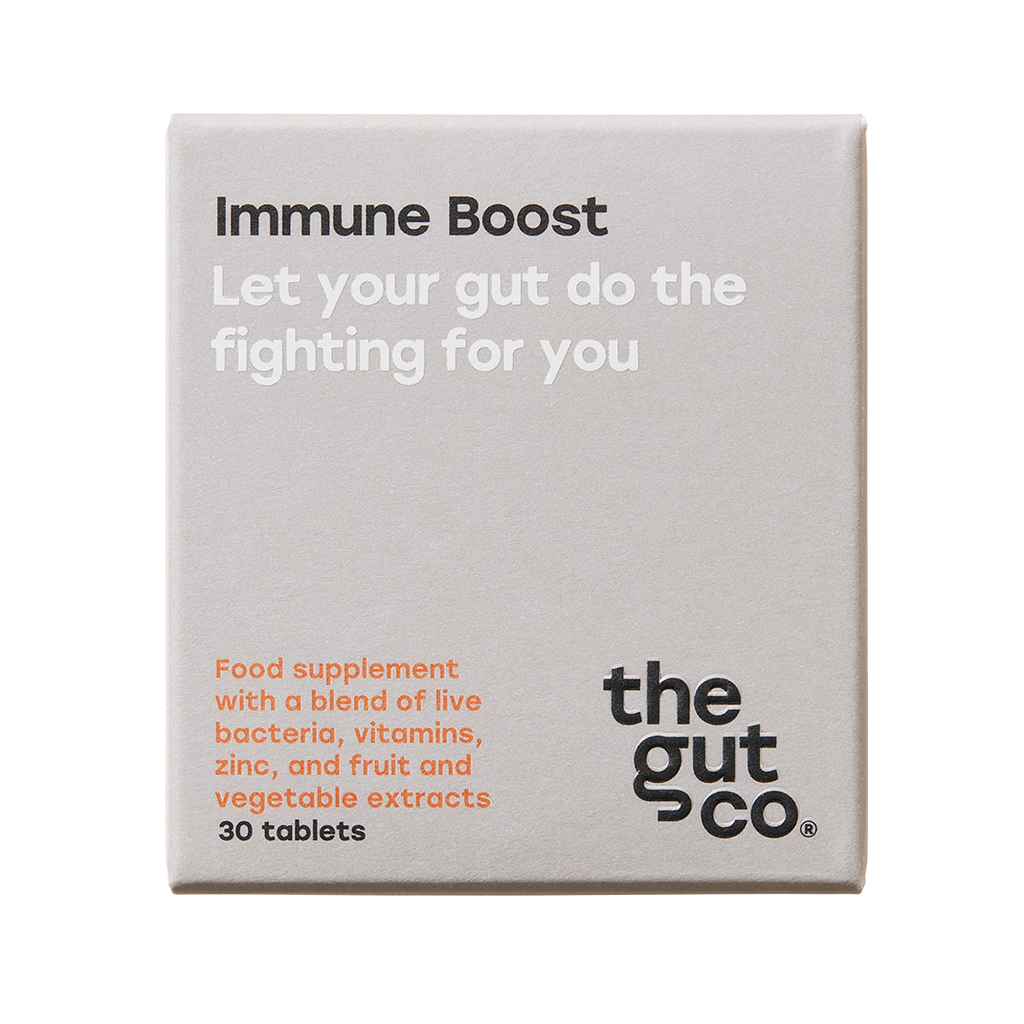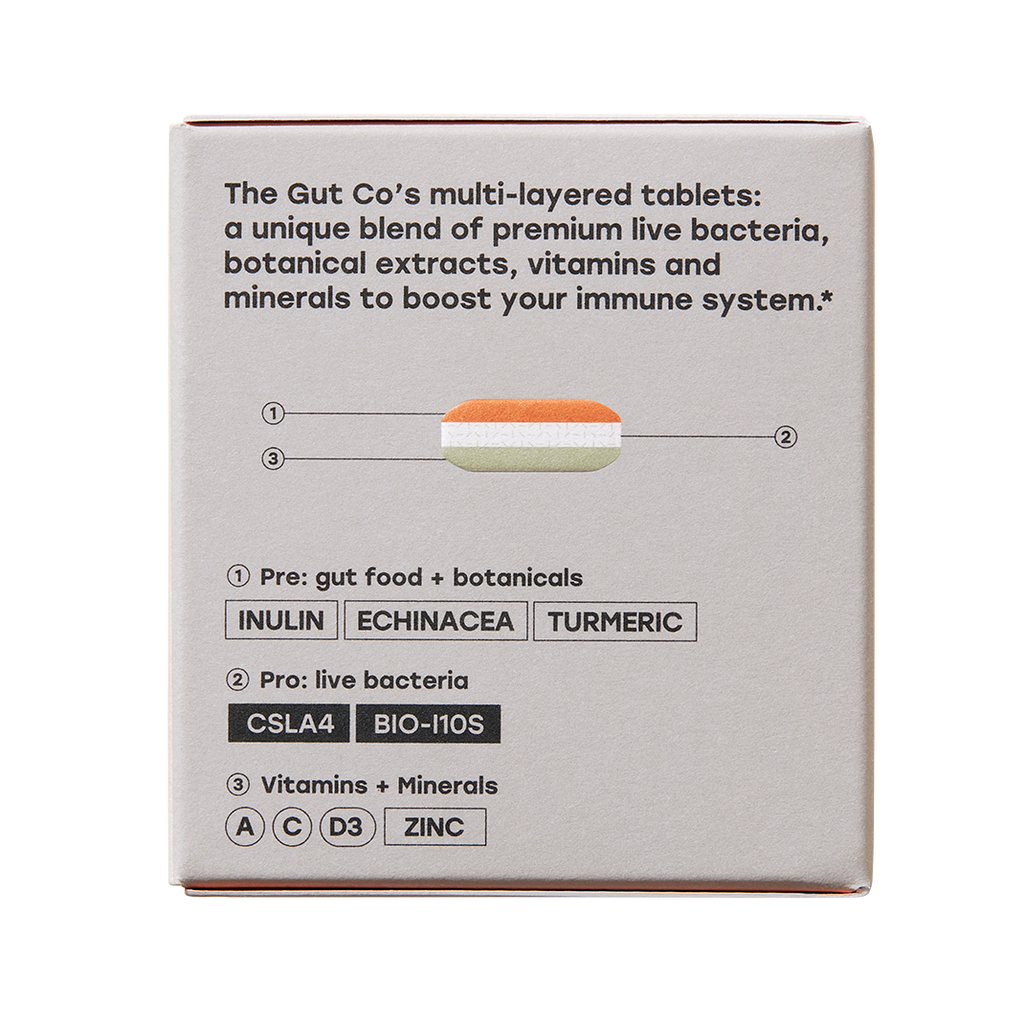 Your bodyguard in a bottle.
Incredibly, 70% of the immune system is modulated through the mucosal lining of the gut. This means that it's more important than ever to heal and nourish the gut microbiome as a frontline strategy to protect our bodies from pathogens and maintain our overall health.
Protects Against Respiratory Infections
Our original Immune Boost formula contains CSLA4 and BIO-I10S, two blends of beneficial bacteria known to prevent and enhance immune-recovery and reduce the recurrence of upper respiratory tract infections by supporting and modulating the gut mucosal immune system.
Reduces Inflammation
Immune Boost contains turmeric and acerola cherry fruit extract, two botanicals known for their potent anti-inflammatory and immune boosting properties. We've also included a premium blend of bacteria, BIO-I10S, for its ability to reduce chronic inflammation.
Reduces oxidative stress
Vitamins A, C, and D3 and bacterial blend BIO-I10S are essential for destroying free radicals and reducing the type of oxidative damage that lowers our immune defenses.
A carefully-crafted blend of vitamins, minerals, and pre + probiotics clinically-proven to maintain healthy gut immune function.
Our unique Immune Boost formula is crafted from a potent blend of prebiotics, live probiotics, vitamins, and minerals that have been carefully selected for their gut-balancing and immune-boosting properties.
Directions
Take one tablet in the morning with or without food. Unless professionally directed, do not exceed the recommended dose. If pregnant, breastfeeding, suffering from food allergies or under medical supervision, seek professional advice before using this product.
Get To Know Immune Boost
Antioxidant Vitamin Blend
Vitamins A, C, and D3 were selected for their antioxidative properties that shield us from DNA damage caused by free radicals. These vitamins also support the structural integrity of cells, including those that line the gastrointestinal tract, protecting us against viral infections and foreign pathogens.
Zinc
Zinc is an essential mineral for immune function. It affects the immuno-processes of over 300 enzymes within your body, and largely contributes to the production and healthy function of the body's white blood cells responsible for fighting the pathogens responsible for infections and viruses.
Turmeric Extract
Turmeric (Curcuma longa) is a herbaceous plant, the root of which grows underground, and is known for its yellow-orange color and potent immunity-supporting properties. Curcumin, the active compound in turmeric, is what makes this spice such an immunity powerhouse: in addition to its antimicrobial and antifungal properties, curcumin is a strong antioxidant and anti-inflammatory. It has been shown to boost white blood cell count, helping to fight off harmful bacteria and viruses.
Echinacea Extract
Native to North America, echinacea has long been studied as an immunostimulant, capable of increasing the oxygen transport capacity of red blood cells within the body. This powerful botanical is also known to alleviate respiratory symptoms associated with the common cold and viral infections.
Acerola Cherry Fruit Extract
A functional food that is packed with vitamin C and phytonutrients, acerola Cherry reduces oxidative stress caused by free radicals and improves the immune function of the gut. This botanical is also well-known for its digestive benefits, and ability to stimulate regular gut motility.
Inulin
Inulin is a fibre-rich prebiotic that helps populate the gut with beneficial bacteria. Because of inulin's ability to draw water into the colon and soften stools, it also helps regulate bowel function and regular elimination that can help clear toxins and pathogens from within the gut.
BIO-I10S‡ & CSL-A 4† (Live bacteria blend)
A cultivated blend of over ten clinically-studied bacterial strains, these live probiotic blends have been carefully chosen for their beneficial impact on the gut mucosal lining, which protects the intestines from oxidative damage and contributes to enhanced immune function. Because over 70% of the body's immune system cells live in the gut, we've crafted Immune Boost to include a premium pool of probiotics known to diversify the gut microbiome and modulate healthy immune function.
Full Ingredients
Ingredients: Bulking Agents (Hydroxypropyl Methylcellulose, Cellulose, Dicalcium Phosphate, Hydroxypropyl Cellulose), Live Bacteria (CSL-A4 Live Bacteria Blend † (B. Animalis Subsp. Lactis BLC1, L. Rhamnosus SP1, L. Rhamnosus IMC 501, L. Paracasei IMC 502), BIO-I10S Live Bacteria Blend ‡ (B. Animalis Subsp. Lactis [BLC1, Bi1], B. Breve Bbr8, L. Plantarum 14D, L. Rhamnosus [SP1,CRL1505, LB21] L. Reuteri LR92, L. Acidophilus [LA1, LA3])), Acerola Cherry Fruit Extract, Turmeric Extract, Echinacea Root Extract (Echinacea angustifolia), Inulin, Vitamin C, Anti-caking Agents (Magnesium Salts of Fatty Acids, Silicon Dioxide), Spinach Extract, Colour (Iron Oxides and Iron Hydroxides), Emulsifier (Mono-and diglycerides of fatty acids), Zinc, Vitamin A, Vitamin D, Corn Starch. L = Lactobacillus, B = Bifidobacterium. Each dose contains 8.5 billion live bacteria microorganisms (8.5 x 109 CFU).
What our global community is saying
Holly Webb, Brighton
Skin Health
"An amazing skincare probiotic formula. One tablet a day and it's made an amazing difference to my skin. Helping me with hormonal breakouts, my eczema…"


"They've really done their research, they've put a lot in to it and I'll be recommending it to all my clients…"
@highbrowbeautyclinic
Harriet Edwards
The Gut Co
"I'm very in to my probiotics and I'm very fussy with the ones that i do buy… I was really happy to find that these contain actual live bacteria that do benefit your body. So these help to repopulate your gut with healthy bacteria that your immune system needs to thrive…"
"If you do suffer from bloating, indigestion, or your mood isn't as positive as you'd like, I would highly recommend you try these probiotics…"
@harrietedwardsart
Immune Boost
"So I've been really lucky to be taking the gut company's immune boosting tablets. I've been taking these now for the last couple of weeks. I do suffer a little bit of IBS, sometimes quite a bit of bloating. These tablets they actually contain live bacteria also lots of different minerals and vitamins inside them. I've really found over the last few weeks that theyve actually helped my symptoms so much"
Our unique multi-layered tablet technology protects each ingredient and releases it at just the right time to maximize absorption.
At the Gut Co., we know health is about more than what you eat—but also how well it's absorbed. With a focus on optimal absorption, we designed a tablet that utilizes the most modern technology to deliver each carefully-selected Immune Boost ingredient to the right part of your body at just the right time.
The first layer of Immune Boost contains the immunostimulating botanicals turmeric and echinacea, and is designed to breakdown within an hour of ingestion. Inserting botanicals within the first layer allows us to trigger an immediate response from the immune system.
The middle layer contains immune-boosting probiotics and is released two hours post-ingestion to allow the ingredients to bypass our stomach acid and arrive intact to the small and large intestines, where the majority of our microbiota populate. A prebiotic strain, inulin, is also included in this layer to provide "gut food" to the probiotics and enhance their effectiveness within the gut.
The third layer of Immune Boost contains a pool of immunoprotective vitamins and minerals, including vitamins A, C, and D3. These ingredients are absorbed by the body at a slower rate to increase their bioavailability within the intestines.

Multi-layered Tablets
Designed by experts to include as many beneficial ingredients as possible, each layer of our multi-layer tablet provides a buffet of gut- and immune-boosting vitamins, minerals, and live bacteria strains. The multi-layer technology permits our ingredients to be separated from each other in order to support peak absorption and digestion.
Time-released Delivery
Our unique tablet technology also enables ingredients to be absorbed at different rates. By utilizing a time-released delivery system, our formula reduces contraindication within the digestive tract, allowing each ingredient to be processed and absorbed by the body at the most effective time.
Don't just take our word for it, hear what the scientists have to say.
Our Immune Boost formulation is backed by clinical research that identified ingredients scientifically proven to balance your gut microbiome and enhance immune gut function.
Vitamins A, C and D3
A blend of vitamins and antioxidants is crucial for immune health, as antioxidants reduce oxidative stress and fight the processes that cause inflammation. These antioxidants have even been shown to strengthen the immune system's response to infections and viruses such as COVID 191.
Turmeric Extract
One of the most widely-researched herbal extracts, turmeric is well known for its ability to reduce the inflammatory cytokines associated with autoimmune disorders. In addition to its anti-inflammatory properties, curcumin, the active compound in turmeric, has been shown to improve symptoms for patients with IBD.2
Echinacea Extract
Echinacea has long been studied for its immune-boosting properties, including its immunostimulating benefits for red blood cells and ability to effectively relieve the symptoms of flus and respiratory infections.3
Acerola Cherry Fruit Extract
Acerola Cherry has a varied antioxidant profile of vitamin C, amino acids, flavonoids, lipids and terpenoids.4 Studies show the botanical has a significant antioxidant effect by inhibiting the oxidative damage caused by free radicals.5
CSL-A 4 Adults† (Live bacteria blend)
A potent probiotic of 5 billion live cultures, proven to reduce intestinal infections and support healthy immune function by maintaining the health of the mucosal lining of the digestive tract.
BIO-I10S‡ (Live bacteria blend)
A carefully cultivated blend of Lactobacillus & Bifidobacterium, both of which are necessary to protect our intestinal lining from oxidative damage and maintain a healthy gut microbiome.5
So, how do you keep you and your gut happy and healthy?
Your gut microbiome is like a bacterial fingerprint—it's uniquely affected by your specific diet and lifestyle choices. It also thrives on a diverse range of bacteria, which helps it fight off pathogens.

One of the best ways to take care of your gut microbiome is to take care of yourself. Eating a healthy diet, getting adequate sleep and exercise, and reducing your exposure to stress are all ways to help protect your gut health, but in today's world, those efforts are often insufficient.

For some of us, years of unhealthy habits and the persistent stresses of modern-day life have disrupted the delicate balance of bacteria in the microbiome, leaving us feeling lethargic, bloated, and fatigued. In these cases, a reset is necessary, and live multi-strain biotic supplements are the most effective way to help you restore the integrity of your microbiome and the health of your gut.
The Power of Pre + Probiotics
A diverse gut is a happy gut, and at The Gut Co., all of our formulas include prebiotics and probiotics carefully-selected to populate and feed beneficial bacteria in your gut.

Prebiotics are compounds that activate the growth of beneficial bacteria. Probiotics deliver live cultures of healthy gut bacteria to give your microbiome the balance it needs to thrive.

Our time-released tablet technology increases the bioavailability of each ingredient, so that with each dose of a Gut Co. formula, you're receiving gut-boosting ingredients when your body can best absorb them.