Advanced pre+probiotic tablets (30 days)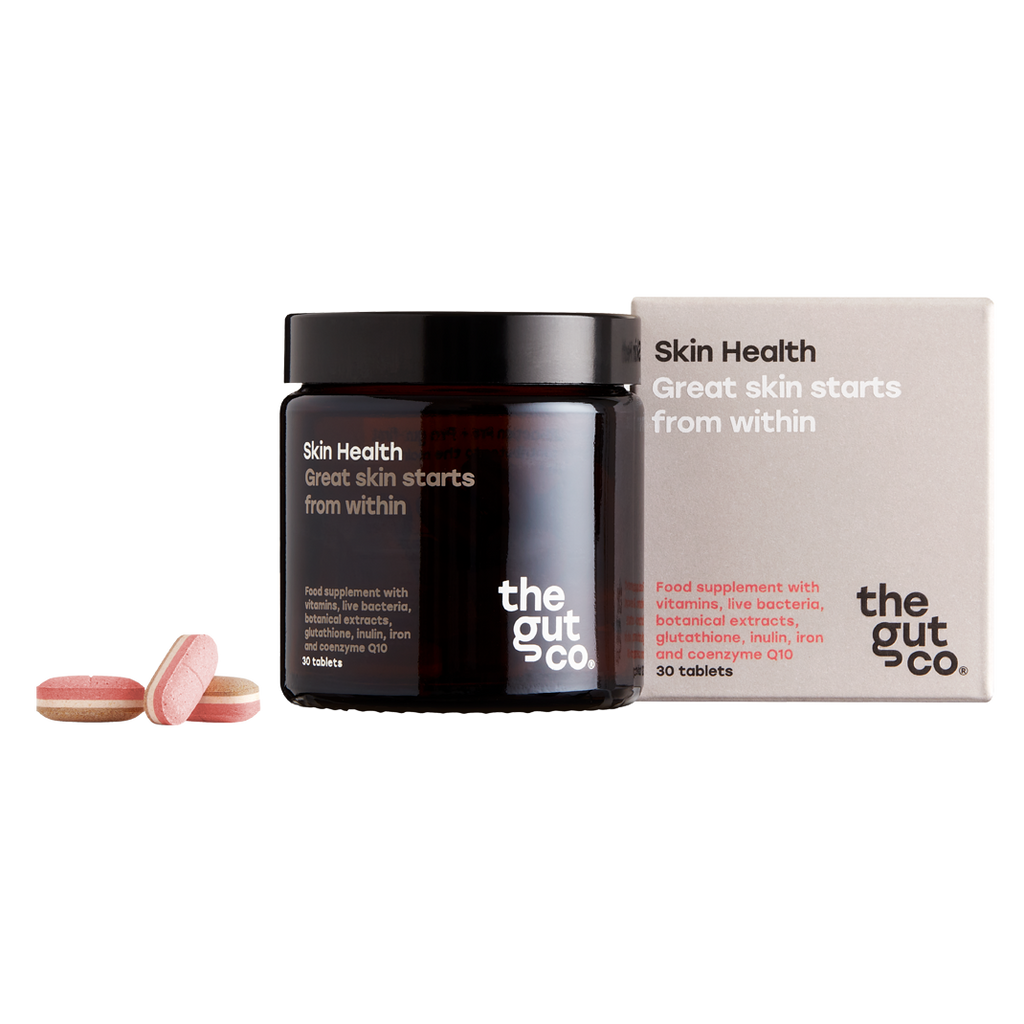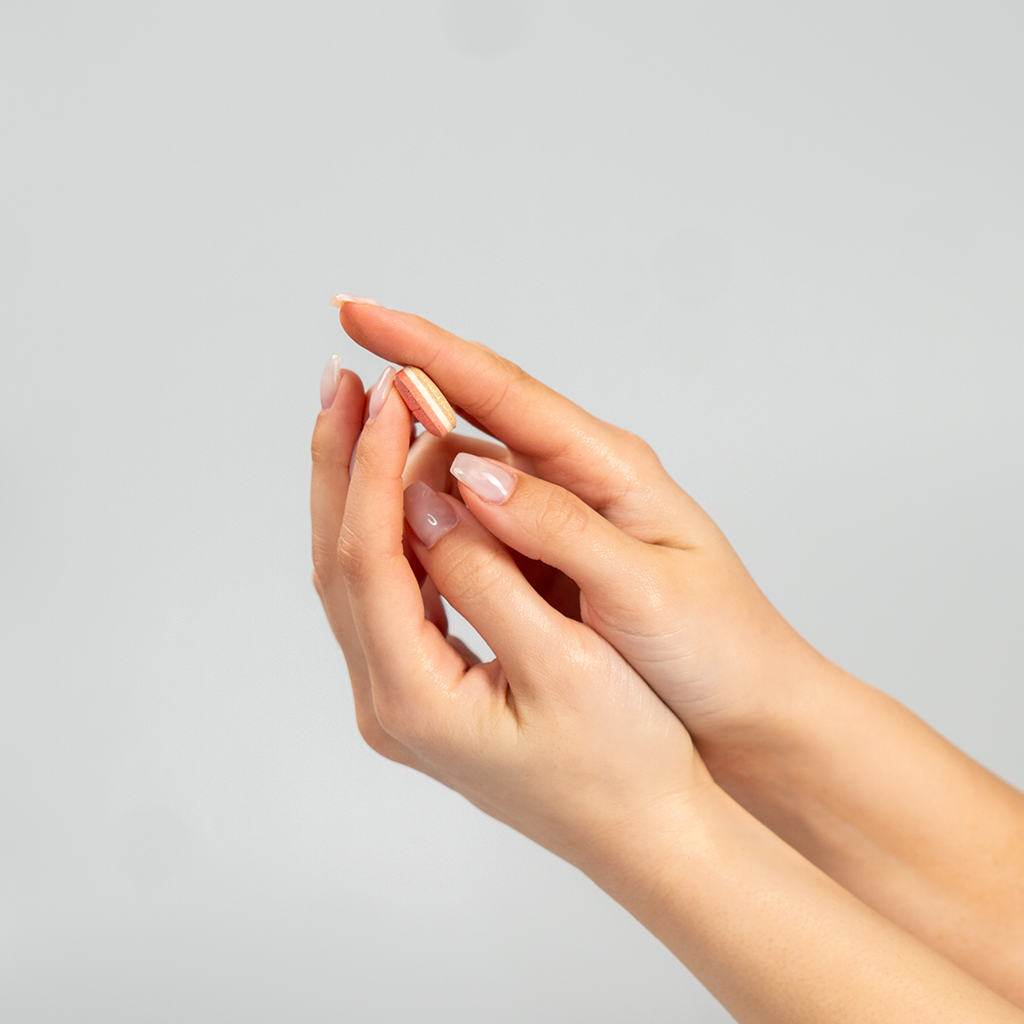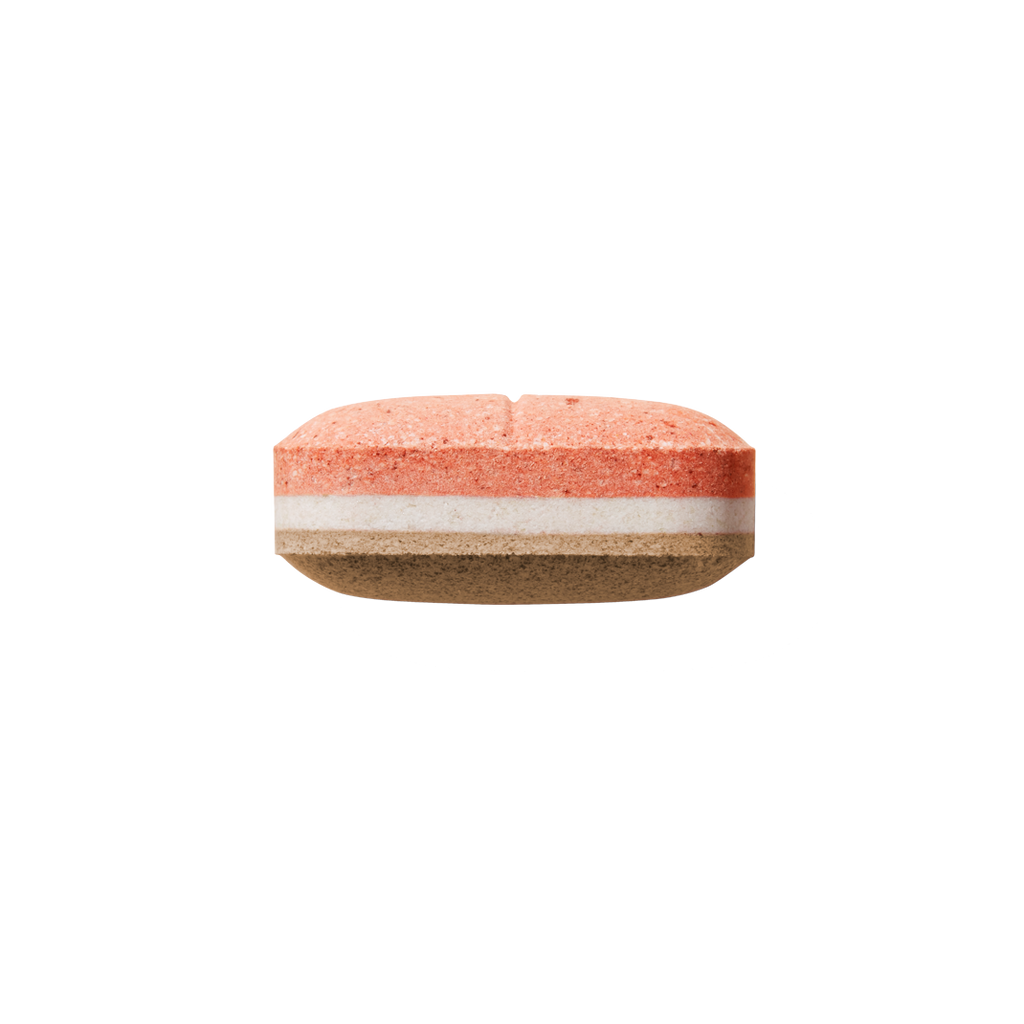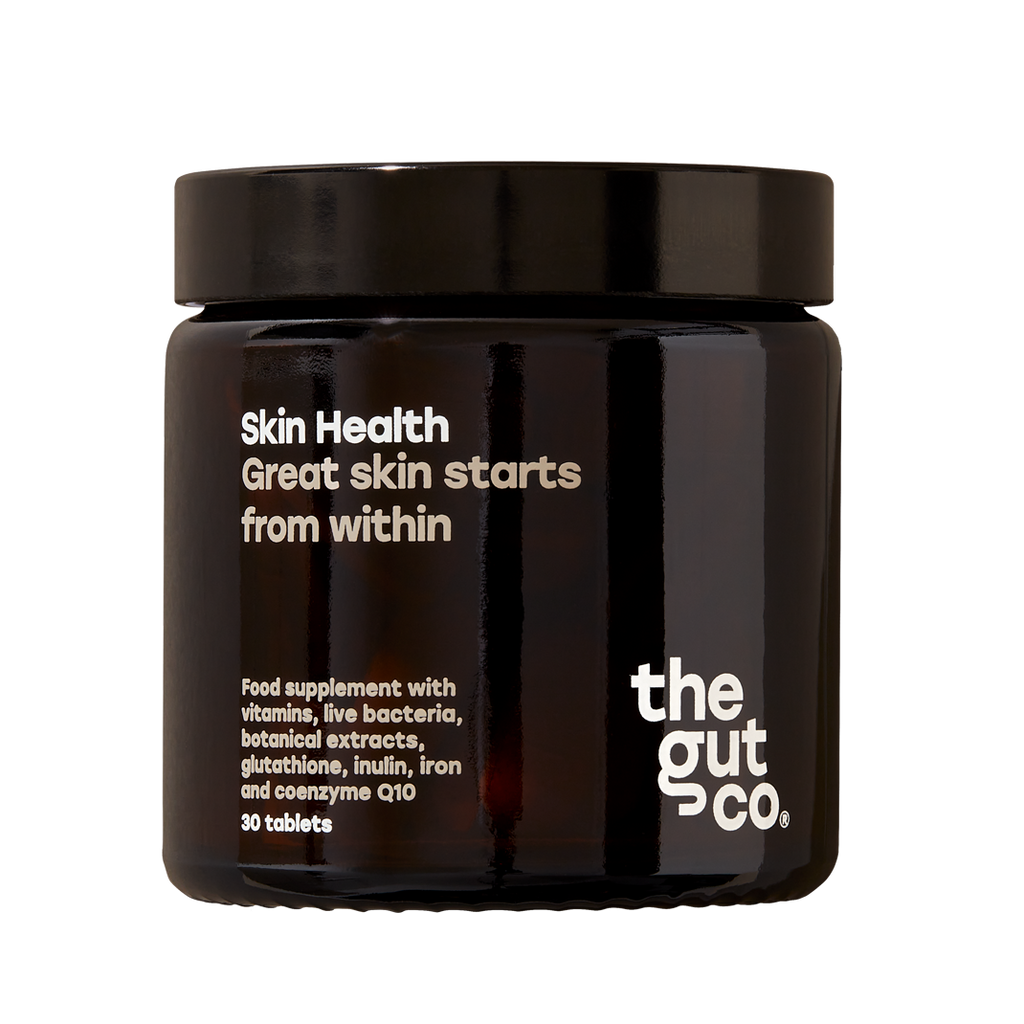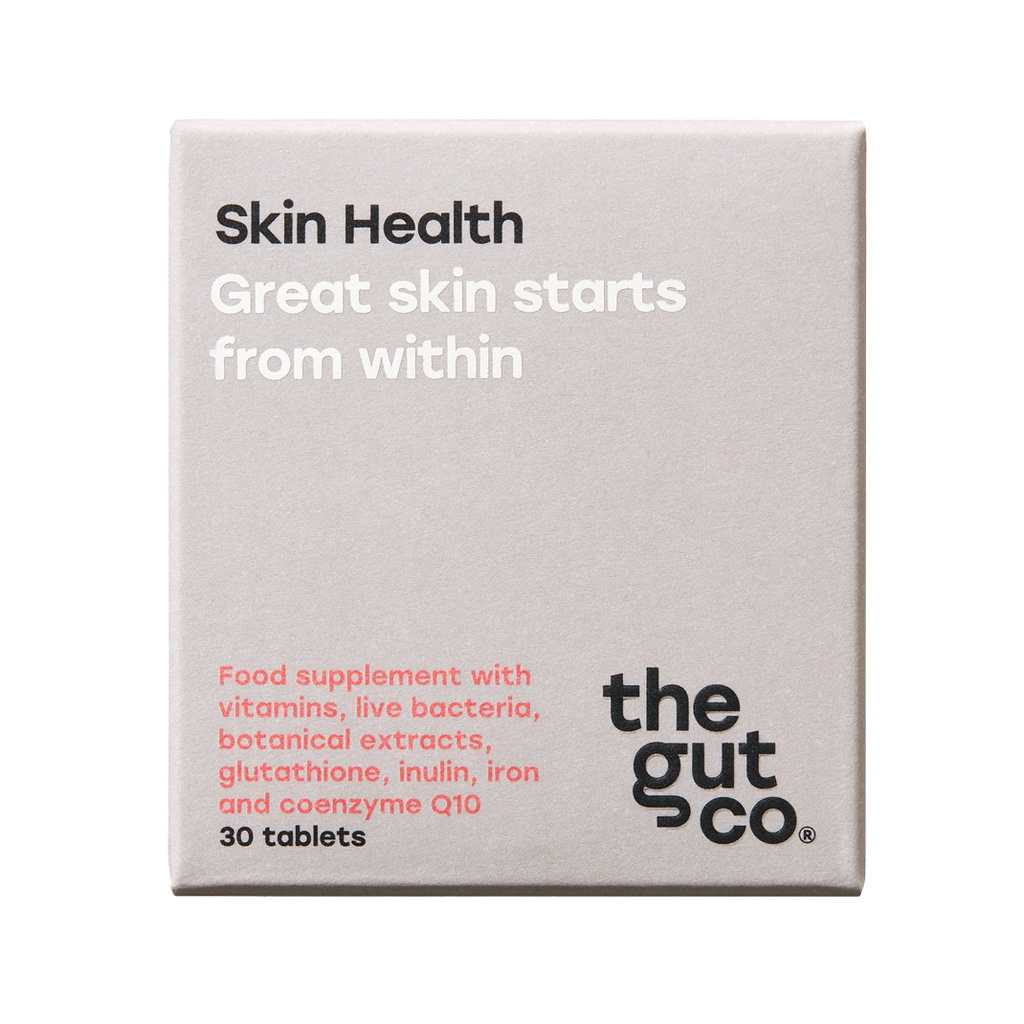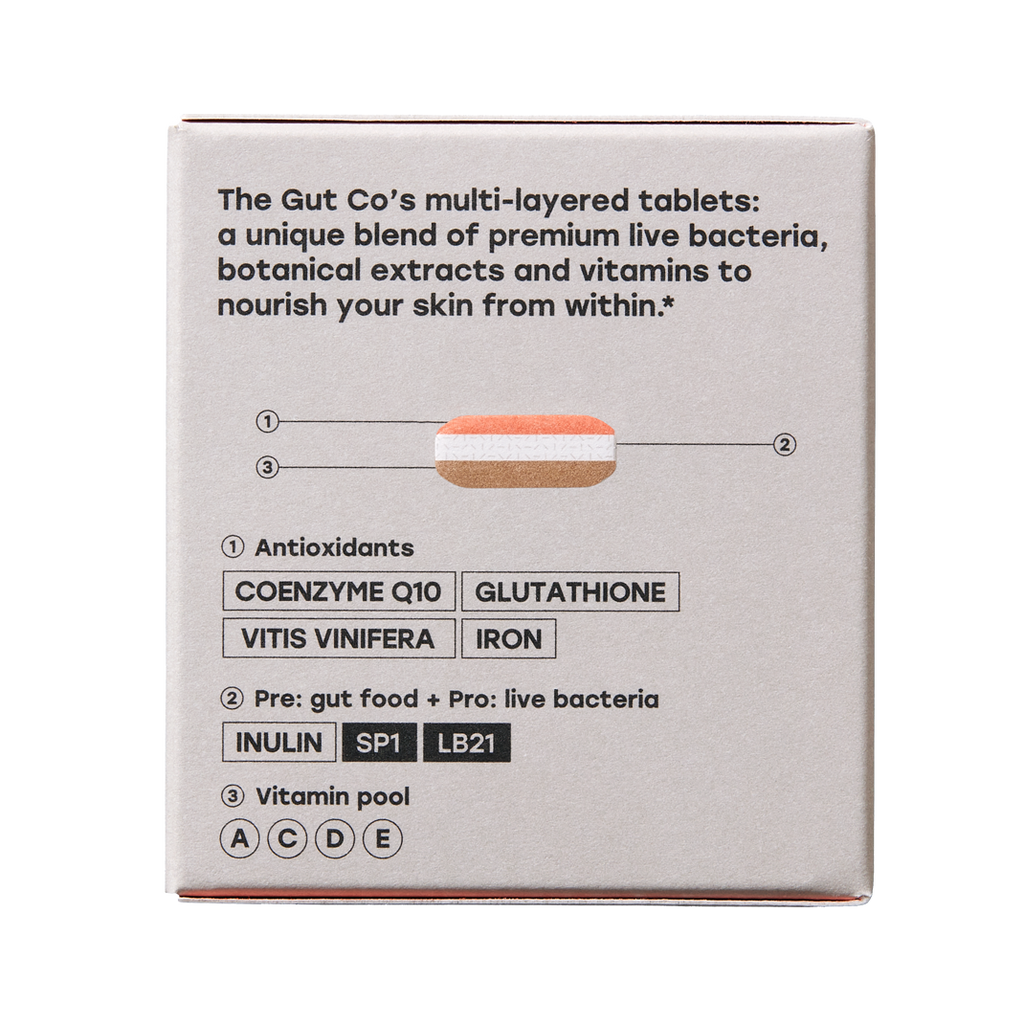 Feel better in 30 days or your money back!
Heal your skin from the inside out with 1 daily tablet that tackles the hidden root cause of many skin troubles: an unhealthy gut. Each natural, sustainable tablet contains powerful, proven skin-boosting antioxidants, vitamins & botanicals PLUS 5 billion+ (5 x 109 CFU) of the exact premium pre+probiotics proven to most effectively reinvigorate the gut-skin axis in strain-specific, peer-reviewed clinical studies - in exactly their most effective dosages. Taking skin supplements in tablet form is a powerful addition to your daily routine, and our unique Multi-Layered Tablet Technology® ensures each ingredient is fully protected until your gut is ready to digest it, for superior absorption vs. capsules.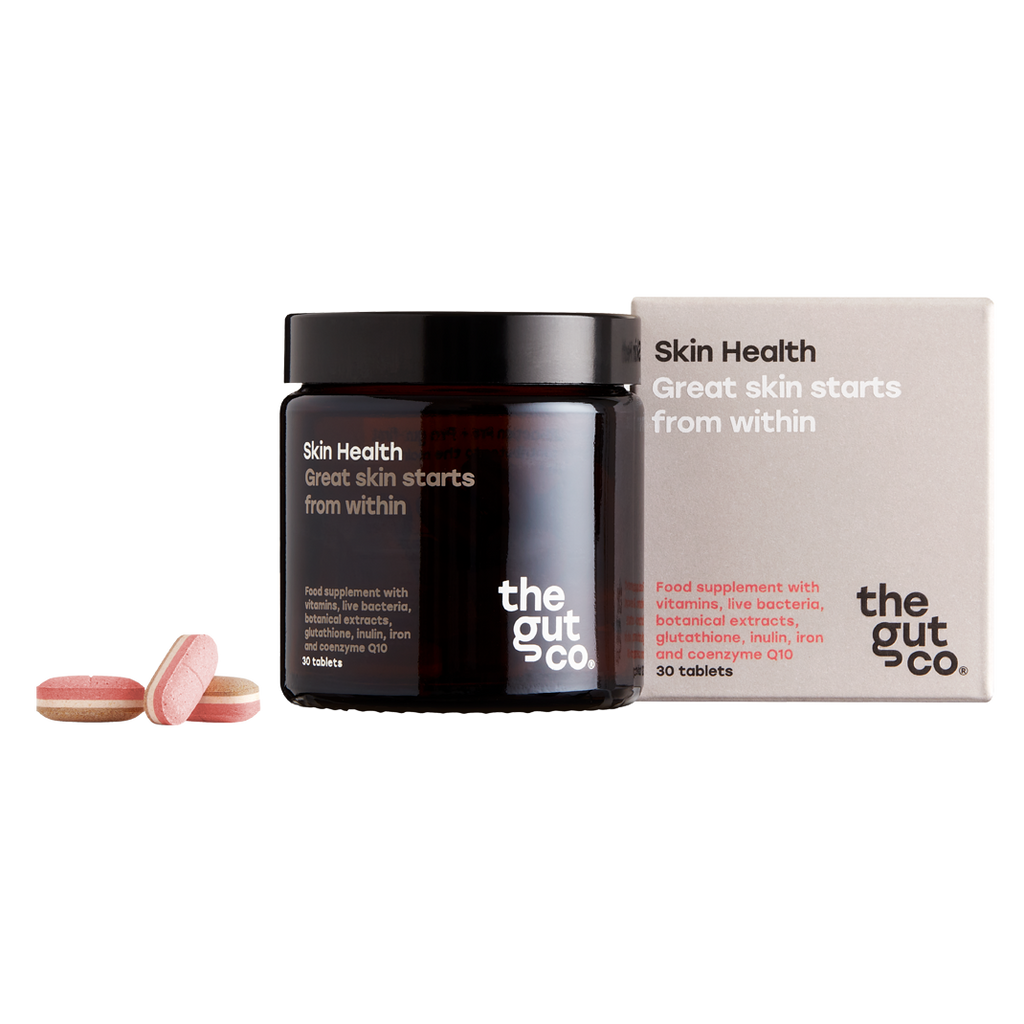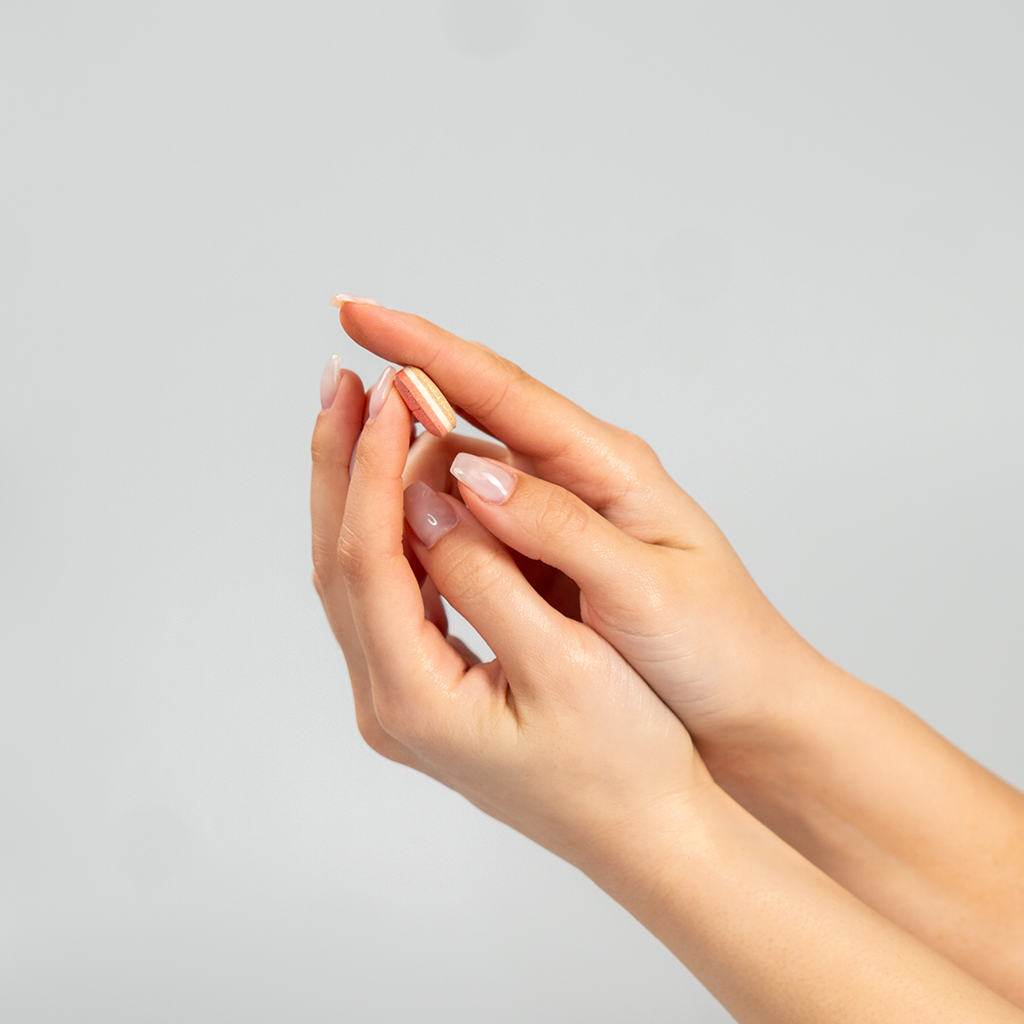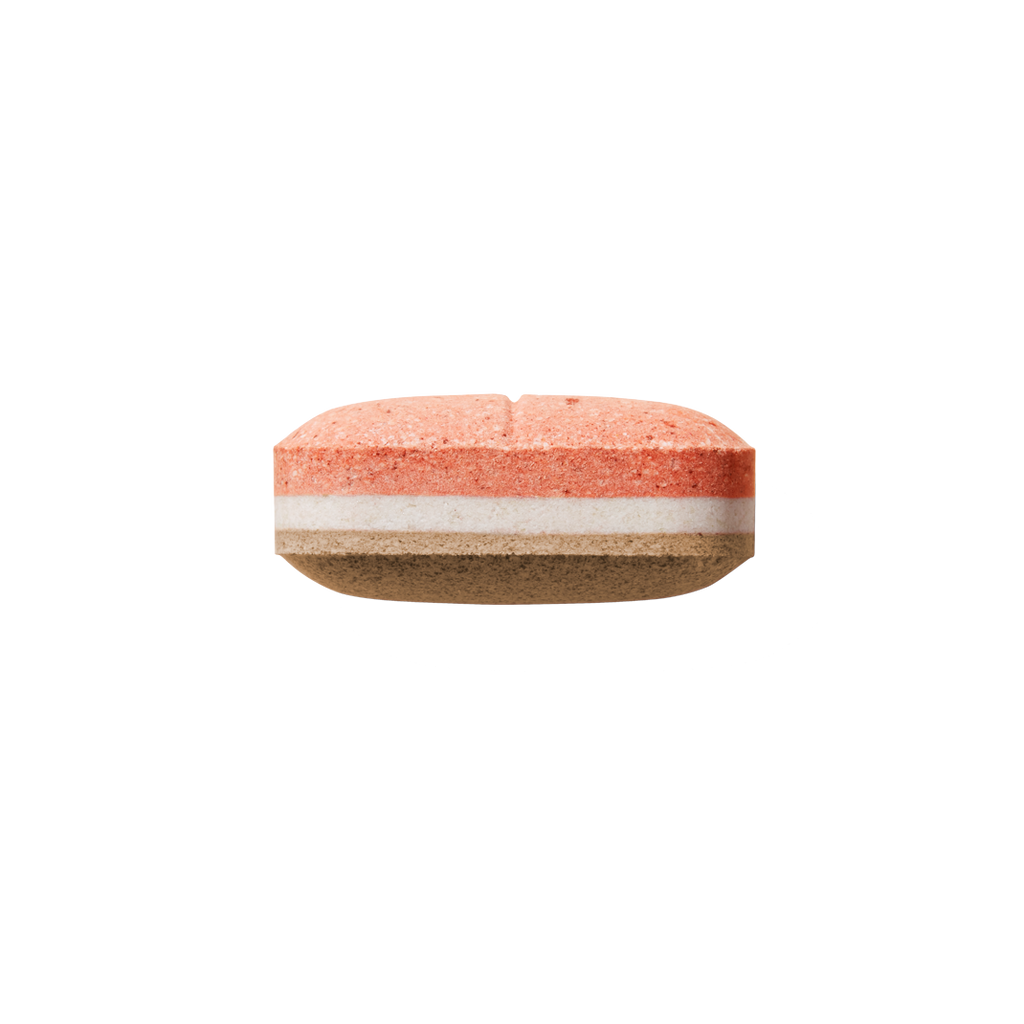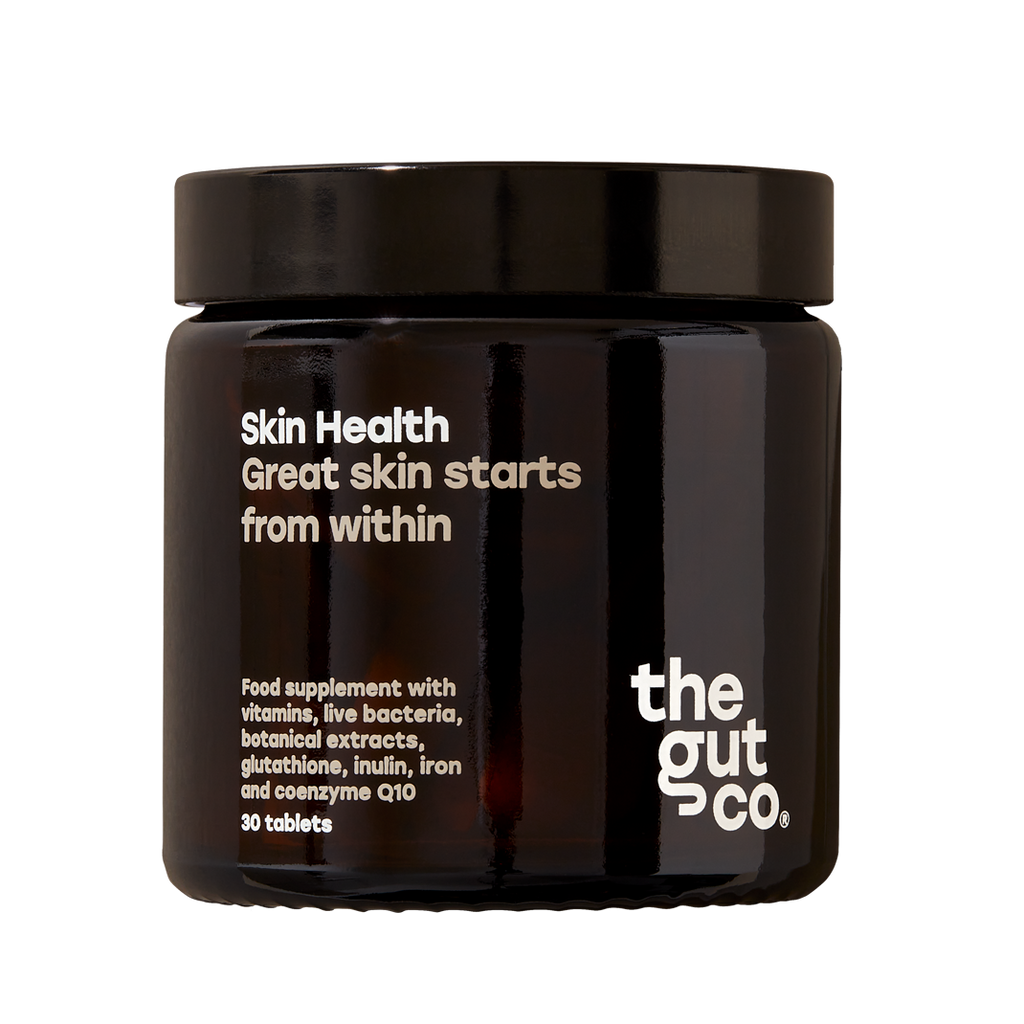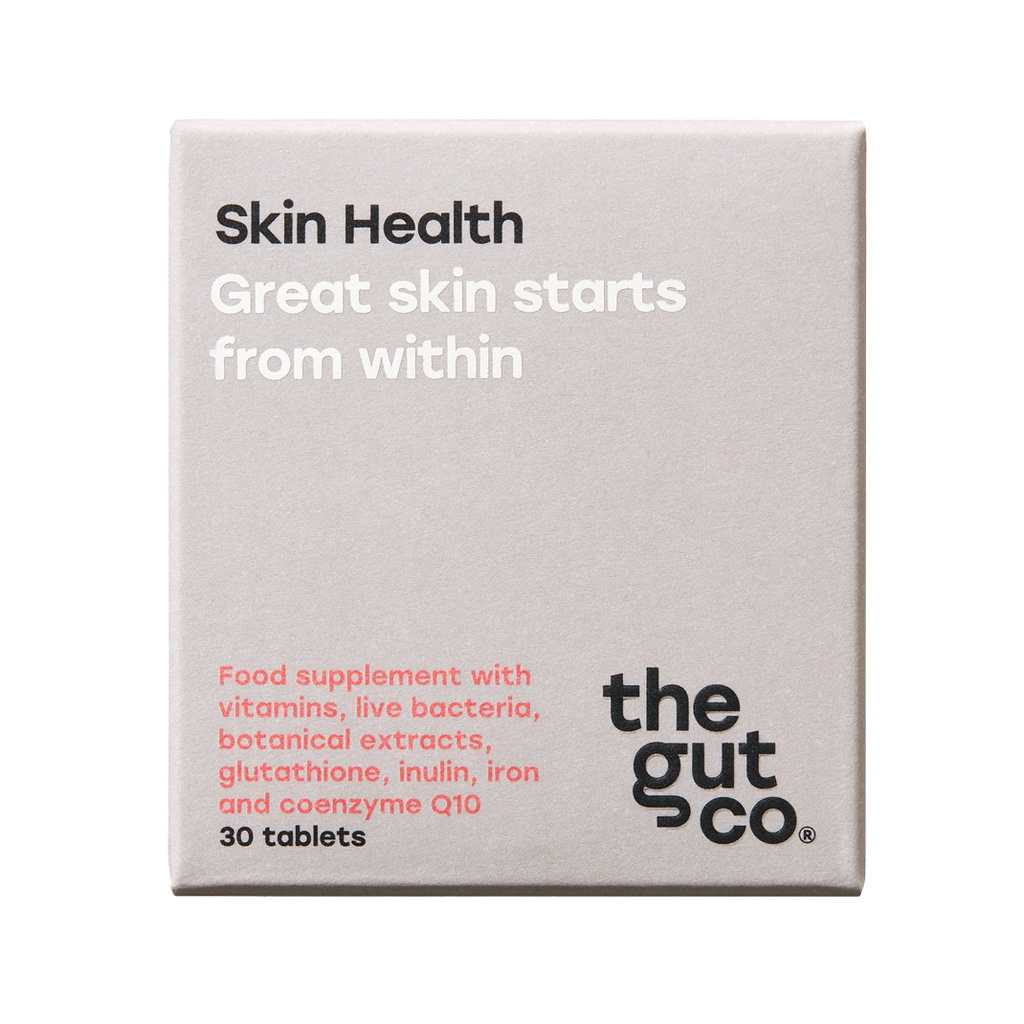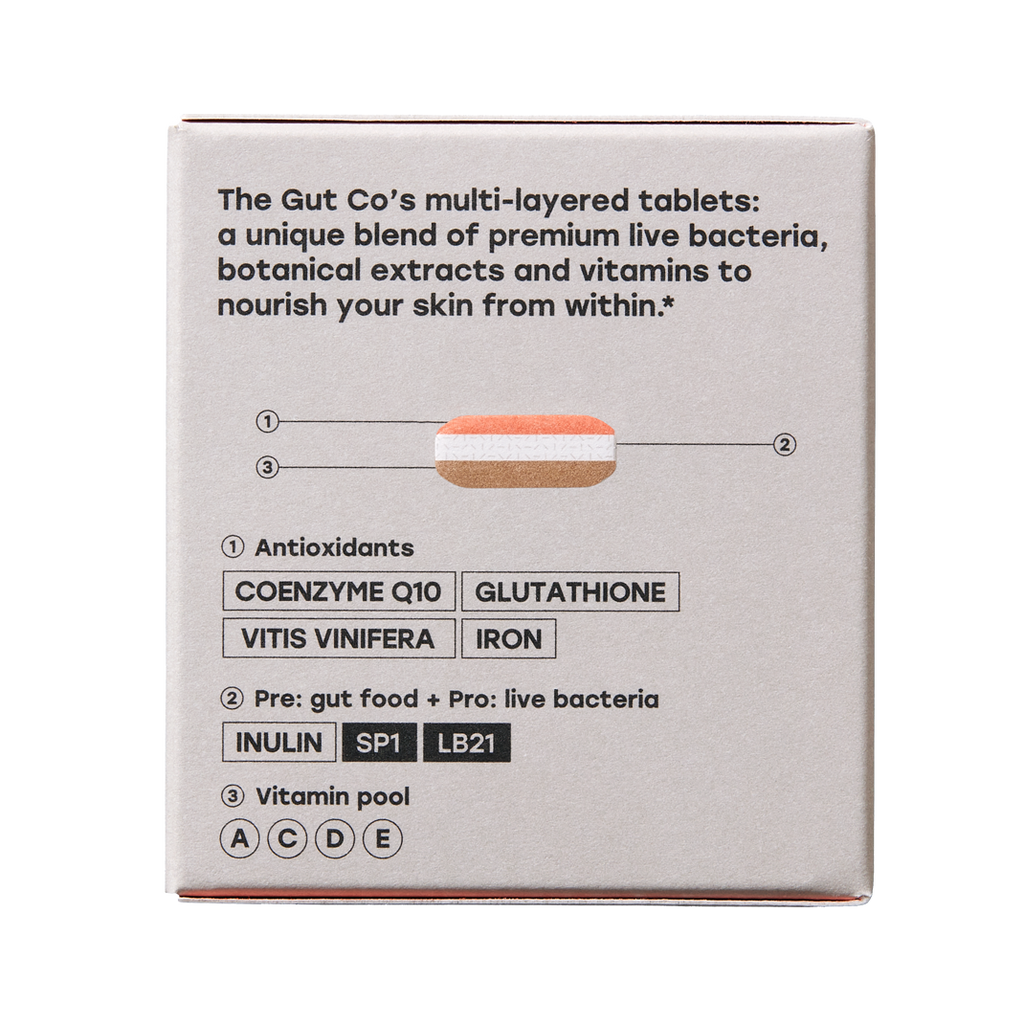 Meet your skin's new best friend.
Ongoing research into the gut-skin axis indicates that there is a strong link between the health of our gut microbiome and the health of our skin. When inflammatory gut microbes wreak havoc on our hormones and interfere with our body's detoxification processes, the result is skin irritation. But not for long. At The Gut Co., we believe in addressing the root causes of health problems, so we developed a skin formula that heals your skin at the source. Containing a clinically-researched and carefully-selected blend of premium prebiotic and probiotics that nourish and balance our microbiota, and a buffet of antioxidants and vitamins to nourish the skin, our Skin Health formula is your daily facial in a bottle.
Reduces Skin Irritation and Inflammation
The bacterial strain Lactobacillus Rhamnosus SP1 has been shown to reduce the appearance of acne and the symptoms of inflammation and irritation associated with eczema and psoriasis. Lactobacillus Rhamnosus LB21 has been clinically proven to reduce the appearance of atopic dermatitis by sending detoxifying and anti-inflammatory signals to your skin via the gut-skin axis.
Reduces the Appearance of Fine Lines
We've included iron and a blend of vitamins A, C, D, and E in our Skin Care formula because of the roles they play in cell division and oxygen transport, throughout the body. Supporting healthy oxygen transport reduces oxidative damage and contributes to the reduction of wrinkles and fine lines that can result from oxidative stress. Vitamins A, C, D, and E have also been shown to have photoprotective properties, which help reduce signs of sun damage and aging.
Enhances Collagen Production
Vitamin C is one of our favourite skin-loving vitamins for the ways it contributes to the regeneration of a reduced form of vitamin E and to normal collagen formation. It also increases the body's ability to absorb iron.
A carefully-crafted blend of botanicals, vitamins, and live bacteria clinically-proven to nourish your skin.
Our Skin Health formula was designed to deliver a potent blend of vitamins, botanical extracts, and live cultures of gut-friendly bacteria that have been clinically-proven to enhance the health of your gut microbiome and nourish your skin.
Directions
Take one tablet in the morning with or without food. Unless professionally directed, do not exceed the recommended dose. If pregnant, breastfeeding, suffering from food allergies or under medical supervision, seek professional advice before using this product.
Get To Know Skin Health
Antioxidant Vitamins A, C, D & E
Antioxidants and vitamins are essential for eliminating the free radicals that break down your skin's protective barrier and contribute to inflammation and signs of aging.
Iron
Iron is a potent antioxidant that has been shown to reduce skin damage caused by exposure to blue light from personal devices such as smartphones, computers, and TVs.
CoEnzyme Q10 & Glutathione
CoEnzyme Q10 and Glutathione are two antioxidants known for their potent skin-boosting and liver-supporting benefits. Our livers are the powerhouse center of our body's detoxification process, thereby controlling what gets detoxified through the skin. A healthy liver contributes to healthy, clear, and glowing skin.
Grapeseed (Vitis vinifera)
Grapeseed extract is abundant in anthocyanins, a plant flavonoid known for stimulating the production of collagen, which is responsible for maintaining the skin's elasticity. Grapeseed also contains an abundance of antioxidant polyphenols, which help reduce oxidative stress and reduce signs of aging.
Lactobacillus Rhamnosus SP1 & LB21
These skin-friendly probiotics have been researched for their beneficial effects on the colonisation of good bacteria within the gut microbiome. When our gut is healthy, its microbes send signals to the skin via the gut-skin axis to support detoxification and the secretion of sebum, which is responsible for the production of oil within the skin. These bacterial strains also support insulin signalling, which is strongly correlated with adult acne.
Inulin
Inulin is a prebiotic typically used to populate beneficial bacteria. By enhancing the colonisation of good bacteria, inulin helps the gut metabolize hormones and detoxify enzymes, thereby supporting a healthy gut-skin axis, and improving the appearance of skin.
Camu Camu Fruit Extract (Myrciaria dubia)
Camu Camu is an anti-inflammatory plant high in antioxidants and containing the richest food source of Vitamin C on the planet. Its active ingredients help reduce skin pigmentation and acne breakouts, resulting in a clearer, brighter complexion.
Full Ingredients
Bulking Agents (Hydroxypropyl Methylcellulose, Cellulose, Dicalcium Phosphate, Hydroxypropyl Cellulose), Live Bacteria (L. Rhamnosus SP1 DSM 21690, LB21), Vitamin C, Vitamin E, Inulin, Glutathione, Grapeseed Extract (Vitis vinifera), Camu Camu Fruit Extract (Myrciaria dubia), Coenzyme Q10, Anti-caking Agents (Magnesium Salts of Fatty Acids, Silicon Dioxide), Iron, Vitamin A, Emulsifier (Mono-and diglycerides of fatty acids), Colour (Iron Oxides and Iron Hydroxides), Corn Starch, Vitamin D. L = Lactobacillus, B = Bifidobacterium. Each dose contains 5 billion live bacteria microorganisms (5 x 109 CFU).
What our global community is saying
Holly Webb, Brighton
Skin Health
"They've really done their research, they've put a lot into it and I'll be recommending it to all my clients."
@highbrowbeautyclinic
Holly Webb
Skin Health
" I've suffered with eczema for the majority of my life as well as IBS issues and bloating etc. i must say almost instantly i wasnt as bloated, my stomach felt a bit more settled and then slowly my skin has definitely become less dry, less flakey, yhe patches of eczema i do have seem to have softened, become less red. I think thats really down to this product because you know i havent done anything else differently that i normally do. "
Ruby
Skin Health
"I have suffered with terribly dry skin and eczema since i was born and I was told that skin irritation can actually stem from your gut. So I came across the gut co. These tablets are really easy and simple to take. you can see the different layers in them and ive been taking them for a few weeks now and i've noticed a huge difference in the hydration of my skin"
Our unique multi-layered tablet technology protects each ingredient and releases it at just the right time to maximize absorption.
At the Gut Co., we know health is about more than what you eat—but also how well it's absorbed. With a focus on optimal absorption, we designed a tablet that utilizes the most modern technology to deliver each carefully-selected Skin Health ingredient to the right part of your body at just the right time.
Our skin-boosting antioxidants make up the first layer of our Skin Health formula. CoEnzyme Q10, Glutathione and Iron have been grouped together release within an hour of ingestion to guarantee immediate skin protection, limiting sun damage and the production of free radicals.
The middle layer of Skin Health contains our carefully-cultivated blend of skin-enhancing probiotics together with inulin, a prebiotic that feeds beneficial bacteria once it reaches the gut. Our pre and probiotic layer has been designed to be broken down once it reaches the intestines, allowing the live bacteria to survive and bypass the stomach's acid.
The final layer contains a pool of antioxidant vitamins, including Camu Camu, rich in skin-boosting Vitamin C. Inserting these ingredients into our slow, four-hour release layer increases their bioavailability at the intestinal level.
Multi-Layered Tablets
Designed by experts to include as many beneficial ingredients as possible, each layer of our multi-layer tablet provides a buffet of gut- and skin-boosting nutrients and live bacteria strains. The multi-layer technology permits our ingredients to be separated from each other in order to support peak digestion.
Time-released Delivery
Our unique tablet technology also enables ingredients to be absorbed at different rates. By utilizing a time-released delivery system, our formula reduces contraindication within the digestive tract, allowing each ingredient to be processed and absorbed by the body at the most effective time.
Don't just take our word for it, hear what the scientists have to say.
Our Skin Health formulation is backed by clinical research that identified ingredients scientifically proven to rebalance your gut and nourish your skin from within.
Vitamins A, C, D & E
Vitamin C has been extensively researched for its impact on wound healing, reduction of skin pigmentation caused by sun damage, and provides nutritional support and structure to the epidermis9. Antioxidant vitamins improve skin health by affecting intracellular signalling pathways that contribute to skin damage, wrinkles, photodamage and inflammation10.
Glutathione
Glutathione improves skin texture, premature ageing, skin elasticity and pigmentation caused by UV damage.6
Co Enzyme Q10
There is evidence to support glutathione and its antioxidant benefits. This compound removes harmful peroxides involved in DNA synthesis and skin repair, prevents oxidative stress from UVB radiation and is a potent antioxidant.7
Grapeseed Extract (Vitis vinifera)
Grapeseed extract has been shown to reduce oxidative damage and mop up free radical damage, boosting antioxidant benefits.4 This botanical is abundant in vitamin C, contributing to healthy collagen synthesis, formation and maturation.5
Lactobacillus Rhamnosus SP1
A randomised double blind placebo study unearthed these probiotics positive effects on insulin signalling genes (which has been studied extensively for its influence on adult acne). 1
Lactobacillus Rhamnosus LB21
A double-blind placebo-controlled study reported the efficacy of Lactobacillus Rhamnosus in reducing the symptoms of atopic dermatitis after 8 weeks of continued use.2 This particular strain of probiotic has also been supported by The European Food Safety Authority (EFSA) to contribute to the maintenance of intestinal microbiota whilst taking antibiotic treatment.3
Camu Camu Fruit Extract (Myrciaria dubia)
Myrciaria dubia has been researched extensively for its antihyperglycemic benefits (with high insulin a potential cause for acne). It has also been clinically proven to show antimicrobial and anti-inflammatory properties.8
How do you keep you and your gut happy and healthy?
Your gut microbiome is like a bacterial fingerprint—it's unique to you, and is therefore uniquely affected by your specific diet and lifestyle choices. Your microbiome also thrives on diversity, as a diverse range of bacteria helps it fight off and resist pathogens.
One of the best ways to take care of your gut microbiome is to take care of yourself. Eating a healthy diet, getting adequate sleep and exercise, and reducing your exposure to environmental stressors are all ways to help protect your gut health, but in today's fast-paced world, those efforts are simply not enough.
For some of us, years of unhealthy habits and the persistent stresses of modern-day life have disrupted the delicate balance of bacteria in the microbiome, leaving us feeling lethargic, bloated, and fatigued. In these cases, a reset is necessary, and live multi-strain biotic supplements are the most effective way to help you restore the integrity of your microbiome and the health of your gut.
The Power of Pre + Probiotics
A diverse gut is a happy gut, and at The Gut Co., all of our formulas include prebiotics and probiotics carefully-selected to populate and feed beneficial bacteria in your gut.
Prebiotics are compounds that activate the growth of beneficial bacteria. Probiotics deliver live cultures of healthy gut bacteria to give your microbiome the balance it needs to thrive.
Our time-released tablet technology increases the bioavailability of each ingredient, so that with each dose of a Gut Co. formula, you're receiving gut-boosting ingredients when your body can best absorb them.